Sanders already has legitimately won more pledged delegates than Clinton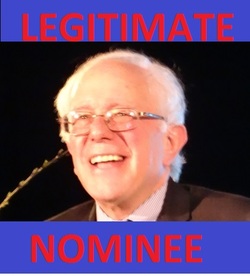 May 9, 2016. An analysis of the evidence of vote fraud, targeted disenfranchisements, and falsification of election results makes it clear that, but for election crimes and disenfranchisements, Bernie Sanders would currently have more pledged delegates than Hillary Clinton. The upcoming primaries will only add to his decisive lead in the legitimate totals over Clinton.

If Clinton is nominated, her nomination will be the result of fraud and obstruction of voting. In other words, she will not be the legitimate nominee. Bernie Sanders will be the legitimate Democratic nominee, whether official or not.

Why did Bernie's vote count decrease between 16% and 95% of the vote supposedly being counted in Sussex County, Delaware? How did Kent County, Delaware count 153.4% of the vote? Why does Clinton always do better when voting machines count the votes and why does Sanders always do better in hand counts and caucuses?

Below are numerous Youtube Videos detailing elements of election fraud in Hillary's apparent theft of the 2016 Democratic nomination. Follow the links to YouTube for more information about these videos. Many are from RT's Redacted Tonight, the Sane Progressive and the Humanist Report and show information from various renowned election fraud experts. The final video is Hacking Democracy, a video the Democratic Party has shown to its members at conventions.
---