Jeremy Corbyn and Ghost of William Wallace Bring
Theresa May to her Knees

UPDATE: The Irish Unionist Party (anti-choice, anti-women's rights), which came in fifth, has united with May's Party to allow May to remain PM on the reported condition that she support their right-wing agenda.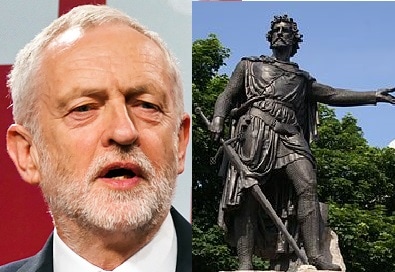 June 8, 2017. Britain. In a major upset victory for freedom and human rights, Jeremy Corbyn and the Labour Party prevented warhawk and anti-freedom Tory Theresa May and her Conservative Party from receiving their expected majority victory. State-sponsored yellow journalism portraying Corbyn as a pawn of terrorists, attacks on London (or possible false flags) and constant fear rhetoric from May's Government and the press couldn't save the Conservatives from a loss of their majority in Parliament.

With the British Government thrown into a hung Parliament, the Scots will be the ones to decide who will be Prime Minister. Now the Tories must come begging on their knees to the Scots for their support to retain power. However, if the Scottish decide to stand up for freedom and human rights, they could join with the the Labour Party, the Liberal Party and the Democratic Unionist Party in making tonight's big winner Jeremy Corbyn the next Prime Minister of Britain. The Ghost of William Wallace would be proud that it is now the Scots who will decide the future of Britain and have England at their mercy.

As Hillary Clinton did in the U.S., Theresa May frightened Brits with the prospect of World War III through her pro-war rhetoric. May had called for massive censorship of the Internet, something that also did not sit well with the British people. Like Americans, the Brits weren't looking forward to nuclear annihilation or a loss of information. They also did not like the fact that May's pro-war positions and bigotry may have brought terrorism to their own soil. Brexit may come into play but, with a coalition government, the result will be that the wishes of the more than one party will be followed.

Had May's party had their expected victory, the Brits would likely have been expecting more war an more terrorism. Corbyn and some in May's party have called for her resignation due to the results showing no confidence in her leadership. With the Conservative losses, a coalition government that represents all the people of Britain and not just the Conservative elites is the likely outcome.

The journalists of the Justice Gazette congratulate Jeremy Corbyn on an historic victory that was against all odds.

---