Fraud and Vandalized Ballot Boxes Couldn't Stop Sanders From Crushing Clinton in Oregon and Tying in Kentucky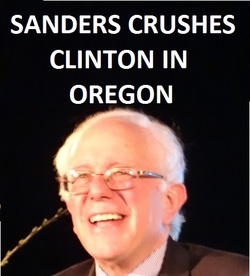 MAY 17, 2016.
Sanders proved once that he is America's most popular candidate as he crushed Clinton in Oregon and tied her in Kentucky. What is amazing is that he was able to do this despite 31 counties in Kentucky reporting fraud and despite the discovery that Sanders ballots had been removed from a ballot drop box in Oregon and ballots voted for Sanders being found in a dumpster.
The
Political Analyzer
survey revealed that Sanders would likely receive 78.35% of the vote in Oregon. Exit polling that showed a
skyrocketing victory
for Sanders in Oregon. In legitimate elections, exit polls are not off by more than 5%. Despite documented dumping of ballots favoring Sanders, he still won a strong victory against Clinton in the Beaver State.
Though Clinton's news networks called Kentucky for Clinton, while exaggerating her percentage of the vote, she and Sanders remain in a statistical tie with each having 46% of the vote. Consistent with Clinton's usual claimed victories,, 31 Kentucky counties reported election fraud. The various complaints included irregularities and problems with (a) procedure, (b) voter assistance, (c) voting machines, (d) voter identification, (e) residency, (f) election officials, (g) electioneering, (h) poll disruption and (i) vote buying. These same problems are very common in primaries involving Clinton and somehow always work in her favor. Though the Clinton news stations like to quickly miscall ties as victories for Clinton while waiting to announce clear wins for Sanders until almost all votes are counted, the two candidates' totals are so close in Kentucky that either could wind up slightly on top when all votes are counted.
If delegates acquired through election fraud were removed nationwide from Clinton's delegate count, Sanders would have more than the required total to win the nomination outright. Sanders's ability to survive pro-Clinton election rigging shows he is the most resilient and electable candidate in history. No matter how many times the Clinton news networks call the election for her, Sanders continues to landslide over her seemingly contrived or rigged "victories." The main question for most observers is whether the overall election process is so hopelessly rigged that the very right to a real vote no longer exists.
Seemingly out of desperation or arrogance, the Clinton team has resorted to armed threats of violence against elected Sanders delegates. On May 14, 2016 at the Nevada Democratic Convention as the Sanders delegates were still at registration, NDP Chairwoman and Clinton proponent Roberta Lange arranged for the Clinton delegates already in the convention hall to vote to determine which candidate would get the at-large delegates. T
hough a sizable number of Sanders delegates were refused registration by Lange's credential's committee, those present after registration still outnumbered the Clinton delegates.
The Sanders delegates, upon entering the hall, began to demand a recount. Finally, when a motion for a recount was on the floor, the chairwoman made and seconded her own motion to terminate the convention. There were thousands of nays and only a small number of yeas. However, Lange falsely claimed the dismissal motion had carried and marched off the stage. Numerous videos of the events document this.
Next, armed men in uniforms strode to the front of the hall, seemingly part of a pre-arranged showing. Through frightened by the possibility of Clinton-orchestrated gun violence against the Sanders delegates and by threats of arrest for trespassing if they did not leave the convention had been elected to been elected to attend, the Sanders delegates remained calm and decided to take legal action. One of the Sanders delegates was injured. Observers called for a medic to assist the injured Sanders delegate.
Quickly Sanders delegates filed a legal action. To counter this, Chairwoman Roberta Lange claimed to have received some offensive calls but, so far, has not proven than any such calls came from Sanders supporters.
The effect of Lange's violation of the Nevada Democratic Party rules and the use of armed men to frighten elected delegates has further convinced millions of Americans that the Clinton team will break whatever rule or law they have to break in order to prevent the voters from determining who their elected leaders will be. If this is actually the case, a coup d' etat has taken place in the United States.
On February 15, 2016, in response to the apparent subversion of democracy by the Clinton campaign, many Bernie or Bust advocates started posting, "Bernie or Red." Currently, over 90% of Sanders supporters say they will not vote for Hillary Clinton if she is the nominee. Most Sanders supporters believe her delegate count has only been achieved by fraud and criminal conduct and that any nomination of Clinton will not be legitimate.
On May 17, 2016, Bernie Sanders issued a statement in support of the Nevada Sanders delegates, pointing out that his supporters have been peaceful. However, he reminded people that someone opposed to his Presidential campaign fired shots into his Nevada campaign office and vandalized the apartment complex where his Nevada staff was living. There are police reports documenting that. Sanders also made note of the refusal of Lange's credential's committee to allow 64 of his Democratic delegates to vote at the convention and of the other rule violations by Lange that resulted in the disastrous end to the convention.
Though the Clinton Annie Oakley team has now used armed violence or at least implied threats thereof against elected Sanders delegates, the Sanders delegates have never engaged in reciprocal behavior. Sanders supporters have never called in armed mercenaries to deal with any group it has disagreed with. Much of the public, after watching video-recorded evidence of the events that took place at the Nevada Convention, is now claiming that Clinton only opposes gun violence in theory or when it is convenient. Large segments of the public are also now saying that, if the voters don't defeat Clinton in November, democracy and the right to vote will be dead and irretrievable.
---