California Senate Education Committee Votes to Expel Children Refusing Sex Disease Vaccine (SB 277)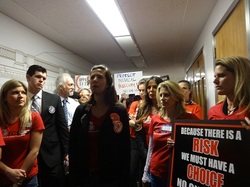 Sacramento, CA April 22, 2015. Rather than stopping Preschool and Kindergarten rape and sex, the California Senate Education Committee voted to force a sex disease vaccine on all California school children. Senator Lori Hancock, herself, called the bill "draconian," a week before voting for the bill. According to parents and doctors who have spoken out against the bill, the Hepatitis B vaccine causes recurrent convulsions and serious brain damage in a significant number of young children.

Senate Education Committee is forwarding a bill to force an unlimited number of vaccinations, including a sex disease vaccine, on children who want to attend school in the State of California. Mothers in California and elsewhere have complained that their children have been forced into sexual situations by traffickers operating within schools for some time.

---

On May 9, 2014, in the Courtroom of Superior Court Judge Kenneth So, the audience saw testimony of four year old Jonah Rief's description of sex acts performed on him at a preschool in San Diego County. Despite medical and witness corroboration of sexual abuse, Jonah was given to individuals accused of trafficking him and, according to foreign authorities, taken out of United States by the alleged traffickers. Prior to the exportation of Jonah Rief (AKA Sullivan), he reportedly had been forced to endure a significant number of "fast-tracking" vaccination shots. Such large numbers of vaccination "fast-­track" shots are a typical characteristic of kids being exported into foreign child sex slavery.

---
Now, the California Senate Education Committee is forwarding a bill to force an unlimited number of vaccinations, including a sex disease vaccine, on children who want to attend school in the State of California. Doctors have warned that the combination effect of the vaccines will likely produce additional major health consequences for children but the committee appeared to disregard the health risk warned of by the long list of doctors opposed to the bill. But more of a concern is the question about why a sex disease vaccine is among those required?In Orange County, one of the most popular K-8 schools in Laguna Beach reportedly had an area on the playground where children had sex at 6 years of age.

At Gates Elementary School in Lake Forest, in the popular "prisoner game," boys were allowed to forcibly grab and hold girls and if the girls got away the boys were allowed to use force to grab them back. Most female victims were grades 1 through 2. Two sons of one of the teachers were reportedly participants in the game and most teachers at Gates were aware of the popular pastime. Students have reported that the "prisoner game" is the most popular and prevalent game for young elementary students throughout the Saddleback School District. Former Gates principal Mary Jacks once said, with respect to the prisoner game, "Girls need to toughen up." One of the top child activists in the California Democratic Party was a victim of the prisoner game at Gates. She was pulled out and later home schooled under a private school registration into UC Berkeley.

While the California Senate Education Committee has failed to stop school boy-on-girl violence and sex, it has, in the guise of protecting children from out-of­-state unvaccinated children attending Disneyland, pushed through a vaccine bill that would include Hepatitis B, a disease contacted through sex and through intravenous drug use. According to the Hepatitis B Research Network,
---
"It is NOT spread through water, food, hugging, kissing, and casual contact such as in schools or the workplace."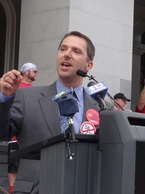 Schools commonly force drugs on children as well and may be vaccinating against side effects from their own policies as not many preschoolers use intravenous drugs by choice. SB 277 lists 10 vaccines, most of which are for minor diseases that children used to survive without any problem. Dr. Bob Sears pointed out that, according to the label on the chicken pox vaccine, anyone receiving the chicken pox vaccine is contagious for six weeks and should not be around immune-deficient persons. As the vaccines do not have the permanent full coverage of the childhood diseases and as pregnant mothers who received the vaccine as a child are susceptible to the disease, according to doctors speaking at the California Capitol on April 8, 2015, children with pregnant women in their families would have to be pulled out of school or risk the likelihood that their future siblings would die or be born with serious birth defects as a result of the vaccine exposure of siblings to the various diseases in the bill.

---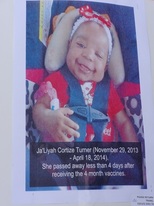 More draconian than the ten vaccines (including the sex disease vaccine) listed in the bill is section (b) (11) which allows the state to force any untested, deadly new vaccine on any and all school children. In his Capitol speech, Robert Kennedy spoke of the large number of potentially dangerous or deadly vaccines likely to be later added to the requirements. He noted that behind the vaccine decisions was Wall Street's desire to increase the profit margins of pharmaceutical corporations, the top contributors to politicians who vote on the vaccine bills and to the media which hides the truth about the dangers of the drugs.

The alternative to vaccination would be to deprive students of an education. Home schooling, though the vaccination bill now utters rhetoric inconsistent with the education code on the subject, is not legal in California and so all California home schooled children are effectively registered in private schools or tutored by expensive licensed school teachers. The idea of an exception for schooling that is not officially allowed in California is considered a trick or a joke by parents who actually engage in home schooling.

---

More of a concern to parents is the $150,000 per child per year that Child Protective Services reportedly receives from Health and Human Services when pulling children away from parents and putting them into the foster care system. This bill would provide an additional excuse for that agency to make hundreds of millions or more by removing unvaccinated children from their homes for failure to attend public or private school as a result of the state's refusal to allow children to attend public or private school. Hepatitis B vaccine convulsions are reminiscent of "shaken baby syndrome" symptoms. Parents have gone to prison after their children have had Hepatitis B vaccine convulsions.

---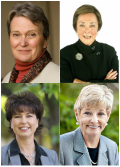 Millions of voting California parents agree with Lori Hancock's assessment that the bill is "draconian" and a significant number of voters have expressed outrage that Hancock and others voted for that "draconian" bill.

Voting for the bill to force the sex disease vaccine, nine other vaccines and an unlimited number of unnamed vaccines on children were: Carol Liu, Marty Block, Lori Hancock, Tony Mendoza, Bill Monning, Richard Pan and Andy Vidak. Voting for the right to an education, for medical choice freedom, and freedom from forced child sex were Sharon Runner and Connie Leyva. It if generally felt that this bill will be an election-­turner in 2016 and 2018.

---

On April 8, 2015 on the steps on the California Capitol, Robert Kennedy told a crowd of thousands that the pharmaceutical industry has bought off the legislators who no longer act to protect the public safety. On SB 277, the public has seen two examples of California Senate Committees who defied doctors and constituents to place a money­making bill for the pharmaceutical industry above public safety and above their own constituents who elected them.


---