Berners Storm CDP Convention as Biden Pushes Bernie's Plan and Leadership Realizes Hillary Can't Win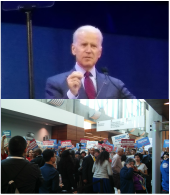 San Jose, CA. February 27, 2016. As the Democratic leadership attempted to reverse disgust by more than half the delegates to the California Democratic Convention towards Hillary Clinton, thousands of Bernie Sanders Supporters rushed the Convention. Joe Biden surprised delegates by strongly supporting Bernie's call for free education and economic reform. Biden pushed the tax on Wall Street as a way to pay for education, practically echoing Sanders, point by point in his speech and making the case that Bernie's Platform would result in a major savings to taxpayers.

Biden's speech was well received. While Clinton was extremely unpopular with the majority of California Democratic Party delegates, Joe Biden continues to be well loved by the majority of Democrats.

Many of the other speeches were aimed at encouraging the Bernie delegates to make peace with the Clinton campaign. California's U.S. Senator Barbara Boxer, while not speaking in support of either candidate, was greeted by a moderate applause when she mentioned Hillary Clinton. However, when she referred to delegates "feeling the Bern," a thunderous applause went up throughout the convention hall, making it clear that the vast majority of delegates were Sanders supporters.
---

Following are three YouTube videos taken by observers of the march on the California Democratic Party. There were more Sanders supporters outside the hall than there were delegates in the hall during Biden's standing room only speech.