Hillary Stiffs Iowans to Play with her
Rich Friends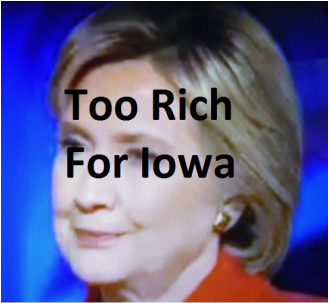 ​January 27, 2016. Philadelphia, PA. Upcoming caucuses in Iowa couldn't convince Hillary Clinton to hang out with the people who were about to vote on the Presidency.

The people of Iowa simply weren't rich enough to keep her from shafting them to fly off to Pennsylvania for a fundraiser at an investment bank (Franklin Square Capital Partners) Failing to obtain significant sums of donations from middle class voters, Hillary's chances for the Presidency are hinging on receiving enough funding from big banks and the top 1%. In return, coveted positions in her Administration are expected to be turned over to bankers, Monsanto executives, Dupont Executives, Walmart executives and private prison and military contractors

The Forum of January 25th, established that while taxes for the 99% would not go up under Bernie Sanders's plan, the super rich like Chris Cuomo, who moderated the forum, and media industry executives would see a rise in their taxes to fund the health care of 300 million Americans. This put a scare into Wall Street, which went into action misinforming the public about whose taxes would be raised to pay for health care. With over 63,000 Iowans flocking to see Hillary's opponent Bernie, Wall Street and Hillary are frightened.

Will the people rise up? Can they be tricked out of voting or into voting for the top 1%? Is the voting software supplied by Hillary's backer Microsoft rigged? Will Jimmy Carter show up in Iowa to ensure the accuracy of the caucus results? Are Iowans OK with being relegated to lower status behind Hillary's rich friends in the banking industry?

Here is a short video placed on YouTube.com by CampusReform that may explain why the people of Iowa are too low class to keep Hillary in their state.
---