Kern County Court: OK for Pedophiles to Bed Young Kids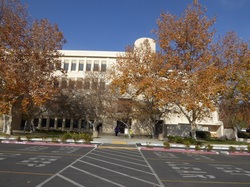 Bakersfield, California. December 8 , 2015. Convicted, registered pedophile Nicolas Elizondo will continue to have custody a young girl in spite has been caught undressed in bed with the child and indications he may have molested her as well. The girl whose molestation resulted in his conviction was five and six years old at the time of the sex acts and the current child was six years old when he received custody. California Family Code 3030 has a prohibition against convicted, registered child molesters getting custody of a child unless certain exceptions (not seemingly applicable here) apply but the courts have refused to apply this statute. The police report of his earlier child victim, herein referred to as Angie, involved graphic/unspeakable sexual acts that would make most porn stars blush but Kern County Commissioner James Compton had no problem with this convicted, registered pedophile raising a young girl he was caught with undressed. There was not even an admonishment against the pedophile having future sex with the child whose custody was being decided. Compton simply expressed relief that the man was not asleep when he was in bed with the child in the current case.

Refusing to consider the prior molestation at all (despite Family Law Code 3030 provisions establishing it's relevance), the judge expressed relief that Elizondo was not sleeping when in bed with the Knight-Elizondo child as opposed to doing something unknown in bed with the girl. Though Elizondo had previously tried to excuse being caught by saying they were watching TV, he admitted on the stand that they were not watching TV while in bed together. There was a dispute as to whether he was wearing underpants or swim shorts at 9 P.M. on a winter's evening when (according to the first day's testimony) he got out from under the covers after Knight rang the bell and then looked through the girl's nearby bedroom window located near the door. Though expressing fear of Elizondo's reaction to her speaking out, the girl has stated that he regularly gets in bed with her but not to sleep and that she does what she has to do---whatever that means--before he leaves her bed to go to sleep. Elizondo spent considerable time speaking for the right of pedophiles to get into bed with children and the judge seemed to agree that there was nothing wrong as long as the pedophile wasn't sleeping. Though, according to testimony, Elizondo was not sleeping or watching TV when in bed with the girl, he never stated what was he doing there. It is known that Elizondo also has been detained by police who discovered Elizondo had the child in pink handcuffs and had sex drugs present. However, Commissioner Compton wasn't interested in that either and would not allow this information into the record. Compton appeared to work hard to keep out substantial evidence of Elizondo's seeming misconduct and sexual abuse out of the record.

In addition to the sexual issue, Elizondo admitted to regularly leaving the child alone for periods of time in a vehicle in Bakersfield, where temperatures go above 100 degrees. He also admitted that the primary babysitters were individuals with criminal backgrounds, both of whom were living with Elizondo and the girl now or in the past. Court records show both of these babysitters have extensive criminal backgrounds involving a variety of crimes, particularly serious drug crimes Elizondo, himself, has had another criminal conviction since first obtaining custody of the girl in question. Commissioner Compton seemingly and at times expressly excused and negated the relevance of the criminal convictions of Elizondo before and after obtaining custody of the child. Compton refused to allow evidence that police had detained Elizondo after the police caught Elizondo with sex drugs while having the current girl in pink handcuffs. Records show that the child in question has been present during various arrests or detentions of Elizondo or his network of law breakers. This all was of no consequence to Commissioner Compton or Minor's Counsel Stephanie Rene Childers.

---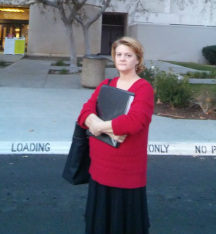 According to testimony, Elizondo assaulted and injured both the mother Lisa Knight and their daughter in the parking lot of Children's Valley Hospital in Madera as the girl screamed she did not want to go with him and wanted to go with her mother. The child hung onto her mother as Elizondo, according to the police report and testimony, kicked the mother and violently threw the child into his vehicle. In addition to bruising from Elizondo's kick, Knight also had fingernail marks dug into her arm from where her child was clutching her, seemingly desperate to get away from Elizondo. Elizondo's attorney turned this around and tried to argue that this made Knight essentially the equivalent of a combatant--although it was her daughter who was grabbing on to her at the time the mother was attacked by Elizondo. Victims of violent crimes have often argued that they have been treated as if they were the criminals and such appeared to be the case here. Elizondo's admissions in court and stronger admission to the police verify the reason for the injury to Knight. The child has told independent sources that Elizondo kicked her mother, grabbed her (the child) away from her mother and threw her into his car that day. The girl said her injury from being thrown into Elizondo's car hurt for a long time. Her mother was not in a position to get the girl treated for her injury as the girl was forced against her will to leave with Elizondo. Also, Compton gave Elizondo the right to make all medical decisions regarding the girl. The daughter has also verified that the only one who caused trouble at the hospital was Elizondo and that she was the one holding on to her mother, not the mother holding onto her, The young victim spoke of how he had injured both of them.
Elizondo called a Nurse Practitioner he knew from the hospital to testify. Though his attorney wanted the NP to state that Knight had caused problems, the NP did not even recognize Knight and had no recollection of anything she said or did. Her records showed that Knight had asked for a urine sample and had wanted the doctor to look at prior records. The NP indicated that this was not unusual. Still, this did not stop Elizondo's attorney from arguing as if the Nurse Practitioner had testified to what he wanted her to testify.
An interesting development occurred in the court, when it was learned that Elizondo had arranged for the girl to receive a nose job, elective cosmetic surgery under general anesthesia at a time when both parents would be in court and not available should an emergency have arisen. The judge had given Elizondo authority to make medical decisions, including cosmetically altering the girl's face. In court, Elizondo was ordered to reschedule the girl's nose job. This was perhaps the biggest victory the mother had during the proceedings. The young girl has stated she does not want the nose job.


The girl has informed multiple sources that her father has injured her, that she does
not want to be with Elizondo but wishes she could go back to Oklahoma with her mother.
She has stated very strongly she wants to tell this to the judge
so the judge will know what is happening and let her live with her mother.
However, Commission Compton refused to allow the girl to testify. Without any regard to the child's repeatedly expressed wishes or even asking the child what she wanted, Minor's Counsel Stephanie Childers opposed the wishes of the child to testify. Judge Compton joined with Childers in opposing the girl's wishes. Then Compton and Childers, though neither had asked the child what she wanted, spoke for her, saying the opposite of what the child had informed others were her wishes. In complete opposition to the child's often expressed wishes, Childers and Compton, spoke as if the girl wanted the mother to support the current custody arrangements. This disparity between attributed wishes and actual wishes of a child are among the reasons child abuse researchers have called for children to have a right to speak in custody hearings.
Commissioner Compton has not and will not allow the mother to have visitation with the girl on schooldays prior to the Friday pick-up time but has no problem sending a registered, convicted pedophile to and from an elementary school and allowing him to interact with other potential molestation victims at elementary school functions.
The child was initially doing poorly at school but with the homework help of the mother and the mother's uncle on weekends, the girls grades have come up. The hearing-disabled mother was placed at a disadvantage in the courtroom as Elizondo's attorney quickly rattled off questions about the school and doctors without giving the mother time to respond, prejudicially equating the mother's auditory disability as a lack of knowledge. One of the girl's teachers violated a subpoena by failing to show up at a prior hearing. That witness was expected to testify that the mother had tried to be as involved as possible in the child's schooling and had worked to help bring up the girl's grades. The teacher had informed the subpoena server that the girl was sullen and withdrawn when the father would drop her off at school and that there were problems with her clothing she would be wearing when Elizondo dropped her off. It was reportedly decided that, as the teacher had failed to show up after being served the first time, her testimony was not as critical as the possible pressure on her from the school to refrain from testifying.
Minor's counsel Stephanie Rene Childers has come to court month after month unprepared to proceed. Instead of listening to the child and her wish to testify and live with her mother, Ms. Childers openly opposed letting the child speak or to live in a home free of convicted pedophiles and other felons. Through most of the proceedings, court watchers have observed that Ms. Childers appeared actively to be representing the interests of the child molester and not the child. Still,Childers presented a bill for $4888 of which the mother was order to pay thousands.
Following is a review from a minor client Ms. Childers reportedly represented in her capacity as minor's counsel. It
seems to sum up Childers'
s attitude towards the children she represents. It was written by a client known as
Hannah S.
---
Stephanie Childers was appointed my minors counsel. She did not do her job. She was severely biased and would not work to get to the bottom of a very serious matter involving a VERY young child. She is a prime example of what is wrong with the lawless family law system. Do not use her and if she is appointed your minors counsel don't expect a thing!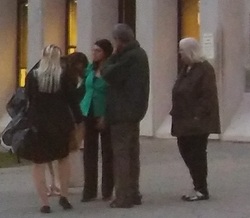 Knight was represented pro-bono by Rasha Gerges-Shields, Megan Webb and Shana Shapiro of the firm of Jones-Day international law firm. Nicholas Elizondo was represented by Ira Stoker. After the hearing, witnesses and attorneys agreed that, if Elizondo had been caught in the act with the child in public or on TV, the Commissioner would not have changed his ruling in favor of the pedophile.
A woman spoken to in the clerk's office accused certain judges in Bakersfield of being part of a pedophile ring. In checking the Internet, there it has been learned that Kern County
Judge Cory Woodward
was censured over sex acts in his chambers. His supervising judge
John Fielder
was reprimanded for violating conduct and abusing his authority in connection with interfering with the discipline of Judge Woodward. This was not the first time Fielder had been reprimanded and he had previously been warned in connection with another situation. The informant at the clerk's office also expressed concerns about Commissioner Compton but nothing has appeared in Internet searches so far regarding Compton. Kern County Court Superior Court Administrator Terry McNally at times promised he would send court reporters to the hearings in accordance with Knight's indigent fee waiver but generally failed to follow through, thereby increasing the difficulty of obtaining a record for appeal.
Bakersfield residents say they worry about about their children. How many of Bakersfield 's young children have been placed in danger as a result of Compton's rulings in this case?
Protective Parents have accumulated statistics showing that, in 90% of the cases, abusers who seek custody of children they have raped, receive it 90% of the time. The Knight-Elizondo case is considered by court watchers to be the rule and not the exception. Below is video (prepared by a Fox Newsman) discussing a California family law case from Orange County wherein a good parent lost custody to a man accused by doctors and the police of sexually abused the girl. In later developments in that case, the Tustin Police sought to arrest the non-citizen father on six counts of sexual child abuse with the girl. He fled the country, avoiding arrest, but was given full custody and authorization to remove the child from the country. While California's family law system is considered one of the most corrupt in America, similar cases can be found in every state and there are calls for a national overhaul of the whole family court system, coast to coast.
There is a national call for children to be allowed to speak and for all child custody cases to be video-recorded. The secrecy and silence only helps abusers. The children want to speak and statistics show that, in 92 to 98% of the cases, the children tell the truth.
While this seems to be a struggle between parents, people across America watching this case say that the child is the real victim of what the commissioner and minors counsel have done
.
What will happen to the Knight-Elizondo child? Will she become an underaged pregnant drug addict like his last victim? Will will she ever recovery psychologically from what Commissioner Compton, Childers and Elizondo have done to the child? Or will she be driven to suicide as often happens with abuse victims? These are questions that only have answers in the future.
---