Unstoppable: Bernie Defeats Lies, Fraud and Polling Place Closures to Win "Yuge" Victory in Indiana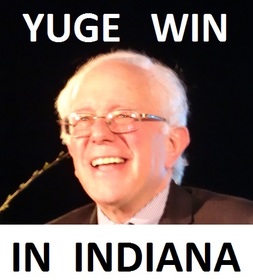 May 4, 2016. Indiana. The vote riggers learned they couldn't keep a popular candidate down as Bernie Sanders soared to victory in Indiana.

The evidence indicates that the Hillary Clinton campaign has resorted to outright lies, child pornography,election fraud, disenfranchisement and media insults to try to stop him. But like Superman, he keeps coming back, stronger and stronger.

In Indiana, the Clinton campaign made fraudulent robocalls to Indiana voters, telling them that Sanders had dropped out of the race and that there was no need to vote for him. To counter the Clinton lies, Sanders volunteers took to the phones, letting Indiana voters know that Sanders was still very much in the race and telling them to bring family and friends to the polls to vote for him. The Indiana voters welcomed the news that Sanders was still in the race and expressed eagerness to get to the polls to help make him President. More than 70% of those contacted said they would be voting for Sanders. In the meantime, Sanders had rallies in various cities in Indiana, where tens of thousands rushed to see him. Often there wasn't even enough room in the overflow areas and supporters stood who didn't make it in waiting for Sanders to address the crowd outside following his speech inside.

Since Clinton's fraudulent calls didn't work, another tactic was tried. Two-thirds (2/3) of the polling locations were closed down and voters had to squeeze into the remaining polling locations. The hours were cut at the surviving polling places, which closed at 6 P.M., making it harder for those working and going to school during the daytime to vote. In spite, of all the tricks to keep voters away, Sanders scored a "yuge" victory that would have been even bigger but for the fraud and polling place closures. What this demonstrates is that voters are refusing to let dirty tricks get in the way of showing their support for Bernie Sanders.

The prior week, extensive fraud was discovered and caught on pictures and video in the elections in Pennsylvania, Connecticut, Maryland and Delaware. Sanders's victory in Rhode Island was muted by the closure of 2/3 of the polling places there. Closing polling places to defeat the vote for Sanders seems to be a big pattern. Exit polls have convinced voter fraud experts, such as Greg Palast and Bev Harris, that some kind of fraud or rigging has been involved in Clinton's victories in the states where she has won. See the videos below for a discussion of some of the clear indicators of fraud.

One set of possible felonious actions that has been very upsetting to parents and those opposed to child porn involved Clinton's PAC paying trolls a million dollars to post child pornography on the Facebook pages of Sanders's support groups. Children read Facebook and children were exploited in the child porn. In posting this, the Clinton campaign showed Hillary Clinton was willing to harm and exploit children to harass and suppress Sanders supporters.

In the first video, uploaded to YouTube by the "Sane Progressive" Debbie Lusigman, Debbie enunciated what is becoming more and more apparent to observers regarding Clinton's likely general election strategy. Clinton has lost the support of a large segment of the Democratic Party and virtually all of the independents, the largest voting block in the United States. She cannot count on Republicans, other than Karl Rove, the Bushes, the Cheneys, the Kochs and the Kissingers, to vote for her. Those responsible for the theft of the 2000 election are reportedly on Clinton's team now. Her total disregard for voters and dismissal of voters' interests could only lead to a Clinton victory if Clinton is also planning to rig the general election. With Ted Cruz dropping out of the Republican race and Trump being the presumptive Republican nominee, the best strategy for his supporters would be to assist the Sanders supporters in exposing Clinton's election fraud and in helping defeat her in the Democratic primary process. Sanders has always stood for fair elections.
---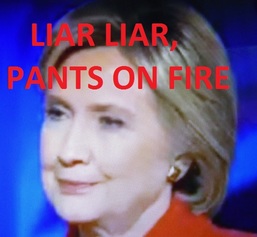 Clinton continues to be financed by the mainstream media (MSM), which has been encouraging Sanders to drop out of the race so their candidate will have a free ride. Since when are crime victims supposed to accommodate with criminals by giving up? According to Rachel Maddow, the victims should unite with the perpetrators for the good of the Democratic Party. Is it wise for people to belong to an organization whose leaders believe it is good to re-victimize crime victims?

As a matter of poetic justice for the Democratic Party, if Clinton does rig the general election, she will likely not be taking her fellow Democrats along. One only has to look at the "Victory Fund" she was supposed to be sharing with her fellow Democrats to see her disregard for her Super Delegate endorsers. She reportedly took 99% of the funds, leaving the rest of the Democratic candidates with a whopping 1%.

Following are two Redacted Tonight videos on election fraud that that show uploaded to Youtube.
---
Bernie Sanders appears poised to win New Jersey, West Virginia Oregon and California, absent more fraud and rigging. To try to make California irrelevant, the Clinton campaign conducted raids on some of the Sanders caucuses on May 1st in CA wherein the Clinton campaign ran slates of Clinton-supporting candidates for Sanders delegate positions. A lot of money went into those slates who showed up with gift bags to bribe caucus voters. After voting in the Sanders caucuses, Clinton voters reportedly rushed off to their own caucuses to vote. Outside the caucus in California's 46th district, one of the Clinton supporters escorting one or more members of the Clinton (or faux Sanders) slate committed what appeared to be an assault and battery on a Sanders supporters who was a well-respected former Democratic Congressional candidate who had come to vote for genuine Sanders candidates in the caucus. It is not known how many faux slates were chosen. It is believed that genuine Sanders supporters prevailed in most. Hundreds of Sanders delegates are expected to go to the DNC convention from California. The bulk of the delegates are believed to be Bernie or bust and this means there will be no unification at the convention in spite of what the Democratic leadership wants.

Democrats intend to draw a line in the sand. It is feared that, if election fraud is not stopped now when it is so blatant, it will soon be too late for any hope of democracy in America. One way to limit vote rigging is to take to the polls in such large numbers as to make it more difficult to steal the elections. Bernie Sanders supporters strongly believe that, if enough people show up, Bernie will win.