Bernie Sanders: The Highest Moral Character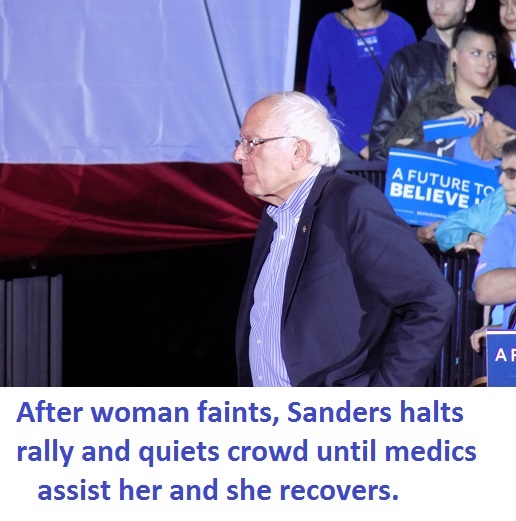 May 22, 2016. California. During a weekend of California rallies from National City to Irvine, the public came away with clear evidence that Bernie Sanders has the high moral character Americans once expected of their President.

On May 21, as Bernie was speaking in National City to a crowd of about 15,000, a woman standing in the denser part of the audience fainted. Bernie instantly showed deep concern and compassion, halting his speech, directing paramedics, and quieting the crowd. He watched patiently as the paramedics assisted woman. It was only after the woman recovered that he continued with his speech.

Throughout his events during the weekend, audiences observed that is sincere when he says, "Not me, us." His speeches echoed a compassion not seen in a any American President in decades. The public is hungry for the compassion and selflessness they see in Bernie. The people's belief in him is reflected in the way the crowds eagerly excitedly flock to his events, waiting for hours to see him, speaking of how they will write him in if he .is not nominated.

In contrast, his opponent, Hillary Clinton is seen as untrustworthy, crooked and a danger to the public. Polling shows that the vast majority of Americans believe that Hillary is only running to further her career and only cares about herself. Her former Secret Service detail has spoken out about how, when she was First Lady, she treated them as lower class inferiors, often swearing at them and showing the kind of contempt and disrespect towards them that slave-owners of past centuries showed towards slaves.
---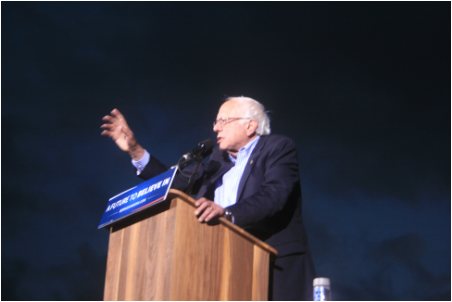 To those watching Bernie, it is clear that he is NOT running because he is entitled wants to acquire higher office but rather because he has a strong passionate desire to help people and solve the wrongs and injustices present in American society. He wants to end poverty, racial injustice, police violence, economic inequality, mass incarceration, and a death penalty that targets low income minorities.

The 200 top economists in the United States, including Bill Clinton's Secretary of Labor Robert Reich have endorsed Sanders's economic plan and say it will save the people of the United States trillions of dollars is is completely doable. This is a relief to Americans who see the middle class slipping into deeper and deeper poverty as society's rich elites, like the Clintons, get richer and richer off the backs of the poor.
---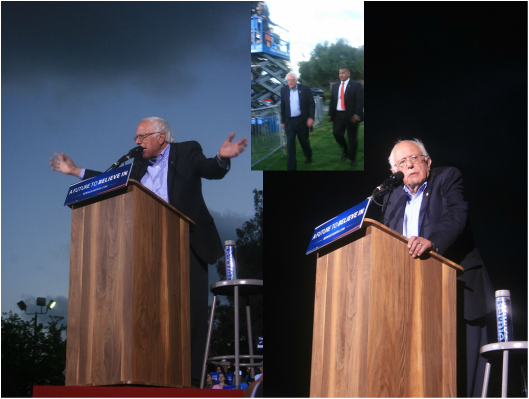 Bernie's plan seeks to restore the middle class, allowing everyone in America to have competent medical care as a right, a college education without massive indebtedness, quality employment, safe food, a thriving planet, peace, voting rights end an end to fear of police violence. Bernie's America is the one the masses want to live in and this is why they rush to his rallies and vote for him in massive numbers when they can. Voters are up against the Clinton machine. The people go to the polls in massive numbers, only to find their their names have been illegally removed from the rolls. Millions who have wanted to vote for Bernie have been told they will have to vote provisional ballots that will never be counted in the circumstances where they are allowed to vote at all. They have watched in shock as computers as voting machines have counted Bernie's votes backwards, subtracting votes from his counts as election nights go on. In hand recounts, votes are subtracted from Bernie's count and added to Hillary's to match the clearly inaccurate machine counts. Many American believe that the right to vote will no longer exist if Hillary becomes President. To Constitutional scholars, this is the most important issue in this election.​
---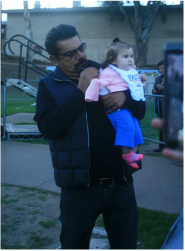 In National City, immigrant rights activist George Lopez introduced Bernie Sanders. Bernie Sanders has consistently supported the rights of immigrants, complete with a path to citizenship. Bernie has a long history of supporting civil rights for all ethnic groups and for individuals of all ages. He continues to be the strongest candidate on equal rights, including income equality, for women. He has brought people from all walks of life together in the common goal of restoring the American dreams to everyone.

Also speaking at Bernie's National City rally was Charlene Woolsey. Present in the audience was former Assemblywoman and current San Diego Mayoral candidate Lori Saldana, who, like Lopez has been a strong supporter of equality for all people, including immigrants.​

---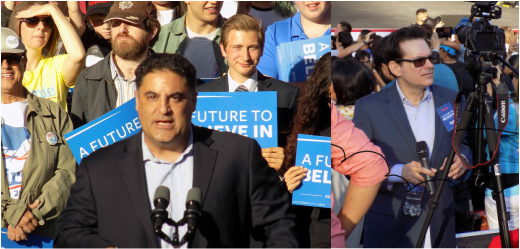 In Irvine, Bernie was introduced by Cenk Uygur of TYT (The Young Turks). Also present and filming from the audience was a very popular Jimmy Dore from The Young Turks. After Bernie spoke, both Uygur and Dore hung around Irvine Meadows Amphitheater for quite a while and spoke with members of the public.

A couple of the other well-known leaders supporting Bernie who were present in in the Irvine audience were Garden Grove Mayor Bao Nguyen and Patrick Kelly of the Teamsters Union. Bernie has fought hard for a $15 minimum wage for workers and for an end to the free trade agreements that have sent millions of American jobs oversees. Bernie has marched with organized labor and has the support of most rank and file union members. On Tuesday (May 24), organized labor will be having a rally to show labor's support for Bernie at the Anaheim Convention Center.
---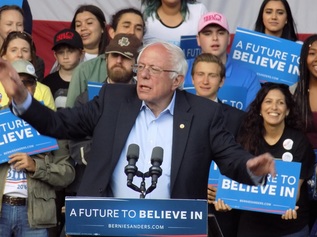 The sentiments of almost all present in both the National City and Irvine audiences was "Bernie or Bust." Most audience members who spoke to the Justice Gazette reporters expressed the belief that Donald Trump would be less dangerous to America and to the world than Hillary Clinton. If Clinton is trying to frighten people with Trump, it isn't working. Hillary Clinton has the lowest approval rating of any Presidential candidate in history. Some polls show Clinton losing to Trump while all polls show Bernine soundly defeating Trump. Instead of compromising with progressive Democrats, Hillary Clinton is reaching out to supporters of George W. Bush and Koch Brothers. She is apparently hoping to increase her popularity to the level of that of George W. Bush, whose policies she often supported as a U.S. Senator. Even most Republicans are ashamed of Bush's Presidency.
---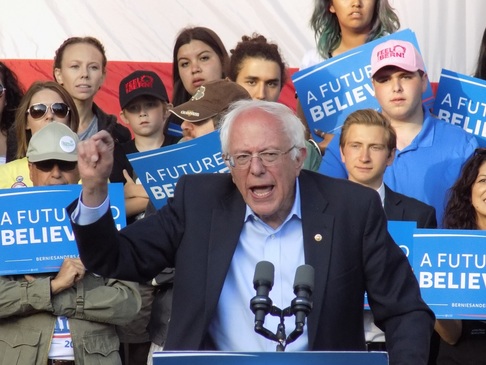 Bernie reminded the audiences that 475 delegates are at stake in California's June 7th primary. A major win in California could give Bernie the lead in the pledged delegate race.

Over 15,000 Sanders supporters came to Irvine Meadows to see Bernie, bringing the total for just two of his weekend events to over 30,000. Audience sizes and exit polls do translate into victories in unrigged elections. Californians plan to closely observe what happens in their state's primary election and to hold California's Secretary of State Alex Padilla accountable for any voting irregularities.
---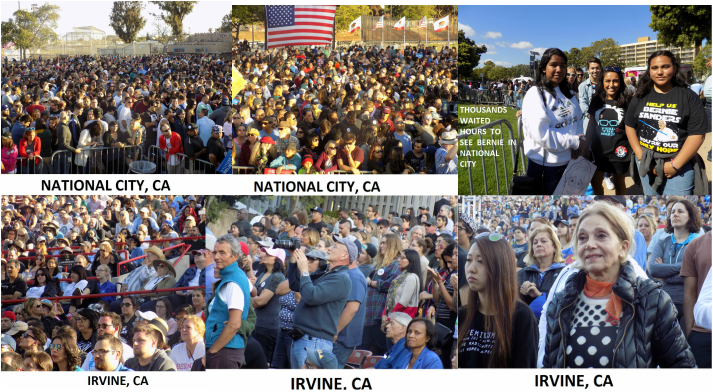 Though the broadcast media has falsely talked about violence in Nevada in a seeming effort to discredit and silence Bernie's supporters, "Bernicrats" a​re planning to peacefully stand up and refuse to yield to a Hillary nomination at the DNC convention. Many delegates are now stating they are prepared to be unjustly arrested in the name of democracy in July. If the mainstream broadcast media lies about what happens at the convention, Bernie activists believe the truth will be captured on cell footage and shown on less biased news sources and on social media. America's independent voters almost outnumber the combined members of both the Democratic and Republican parties. (Note: in California "Independent" means "American Independent Party" as opposed to small "i" independents on voters registration rolls. The deadline for California voters to fix their affiliation to "no party preference" is May 23rd. In California, unaffiliated voters have the right to vote a regular, not a provisional, Democratic ballot.) In Bernie, most independents see a candidate of high moral values who represents them and their needs. Though independents have been generally been prevented from having a say in the primaries, these independents will decide the general election. Voters are refusing to vote for the lesser of the evils in 2016. If the DNC does not want to lose in November, Bernie Sanders is the Democratic Party's best hope.
---