​Among New York Democrats Who Voted and Those Who Tried to Vote, Bernie Sanders Won a Landslide Victory
Clinton Won Rigged Victory of Voters Allowed to Vote
Democratic Voters Call for Arrest and Prosecution of Clinton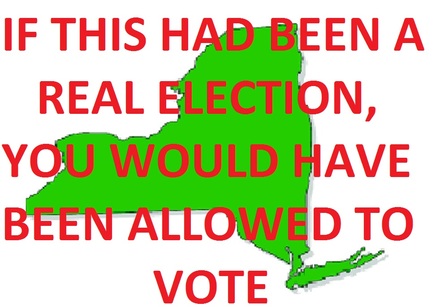 April 19, 2016. New York.
The New York Board of Elections and New York Mayor Bill de Blasio have confirmed that 126,000 have been dropped from the voters roles since October 9, 2015 in Kings County (Brooklyn), where Bernie was born and raised. According to other reports approximately 60,000 Brooklyn Democratic voters registrations were altered, removing these registered Democratic voters from the
Democratic
voter roles, after April 1, 2016.
Under New York law, these registrations could not legally be altered (not even by the voters, themselves) after October 9th of 2015 . This means there was probably some illegality in the alteration. Because New York has a closed primary, those illegally dropped from the voters' rolls could not vote a countable ballot. If you add the dropped votes back in, Bernie Sanders would have won Brooklyn by a landslide. He also would have won New York City by a landslide.
According other various reports, approximately 30% or more of the Democrats throughout the state who went to vote found their registrations had been altered, making those Democrats (oddly Sanders supporters) ineligible to vote. Even with the removal of Sanders supporters from the voters' roles, Sanders won approximately 2 out of every 3 counties in New York State. If an additional 30% of the vote totals were added statewide in his favor, Sanders would win New York State by over 20%, a landslide victory for Sanders.
Though a supporter of Clinton, New York City Comptroller Scott M. Stringer stood up for the disenfranchised voters who would have voted for Sanders. In a press release, Comptroller Stringer, invoking section § 93(b) of the City Charter, announced the creation of a new Research and Investigation Unit within the Bureau of Audit to investigate the registration irregularities. De Blasio, in spite of his own ties to Clinton, has also called for an investigation. There is a concern that these investigations are simply for show, a way to pacify angry New Yorkers until it is too late to do anything about the election irregularities.
On Friday, April 15, 2016, a lawsuit was filed by Election Justice USA on behalf of Democratic voters with altered registrations. The group also would have filed on behalf of Republicans, but, according to an Election Justice USA spokesperson, no Republicans contacted them with stories of altered registrations. The suit will be decided after the election, meaning that those voters who voted affidavits or provisional ballots that are not being currently counted
might
have their ballots counted at a later time. Because of Clinton's ties to the New York power establishment, the case might have to moved to the federal courts to bear results.
The irregularities did not end with alterations of registrations. Reports from various sources provide accounts of votes being switched from Sanders to Clinton while voters were powerless to vote their ballots for Sanders. More common are concerns about vote flipping where, in less than a minute, a computer programmer can flip a county's vote to switch the vote totals such that the loser winds up the winner. This has been testified to by programmers who designed the programs to do just that. Two of the top researchers in this area are Bev Harris and Bob Fitrakas. This would explain why the exit polls showed higher Sanders totals among those who actually were allowed to vote than the final results.
Making it more difficult for voters, polling places were closed in precincts where Sanders was expected to obtain higher totals. Voters, who were still registered Democrats, were told to vote provisional ballots, which aren't being counted as of yet, if ever. Other polling places were moved and provisional ballots, which might one day be counted, were handed out at the new polling places.
In areas supporting Sanders, an additional problem involved polling places cutting 6 (six) hours out of the time they were open, making it difficult for working class people to vote.
Hillary and Bill Clinton were caught on video campaigning right outside a polling place. As there were two people involved in the apparently illegal campaigning, indicating at least an implicit agreement to break the law and an act in furtherance thereof, this might be chargeable as a felony. However, so far a growing list of alleged election crimes reported against Hilary Clinton have not been prosecuted.
In 2015, NGP Van , through a "glitch" NPG Van created, provided access to the names, addresses and information about Sanders supporters to the Clinton campaign. NGP Van, which also has access to the information by virtue of being in charge of the DNC databases for both campaigns, also has had access since that time to information about which Democrats support Bernie Sanders. Oddly, these are the ones being disenfranchised. NGP Van has ties to the Clinton campaign and to Debbie Wasserman Schultz, Clinton's former campaign manager. The only person who could have benefited from the voting irregularities would have been Hillary Clinton or someone who hoped to gain through a Clinton Presidency.
Then, there is the issue of 3.1 million New York voters who were not allowed to change their registrations to vote for Sanders because of the October 2015 deadline. If these had been allowed to vote for Sanders, Clinton would have only received a fraction of Sanders's totals.
This was a must win election for Clinton and the results show, that if the election hadn't been rigged against the voters, she probably would have been out of the race for President after landslide loss she would have suffered.
Democratic voters are angry. They are calling New York and Arizona, proof of "Clinton's war on the Democratic voters." Some believe it amounts to treason, claiming it involves a coup d' etat against the candidate the majority of voters are trying to elect as President. Democrats say this is worse than the theft of the 2000 election.
On April 20th at 4 P.M. a protest is planned at the Brooklyn Board of Elections, 345 Adams Street, 4th Floor, New York 11201/ From the organizing
Facebook page
,
"Over 120,000 voters were dropped In Brooklyn today and no matter what the Board of Elections does or says, WE WON'T ACCEPT THIS! On Wednesday April 20, we're going over there, holding their feet to the fire, and saying HELL NO, NOT IN OUR CITY. "
More than 40%, according to most sources, and as many as 60% of Democratic voters are saying they will
not
vote for Hillary Clinton under any circumstances. Democrats are even willing to let Donald Trump win the Presidency, saying he would have a nothing Presidency while Clinton would be dangerous. Democrats make up 30% of the voters. Independents are 43% and are not expected to vote for Hillary Clinton. If half the 30% fail to vote for Hillary Clinton, this leaves her with 15% of the total Americans voting in November under the best case scenario for Democrats. It would take a very low turnout for those 15% to win. A low turnout actually favors the Republicans. In other words, the apparent election fraud being perpetrated against the American voters is likely the last straw for Democrats and may lead to at complete fall of the Democratic Party.
---