Voters Declare Sanders Winner of Third Debate as Clinton Caught Lying about Libya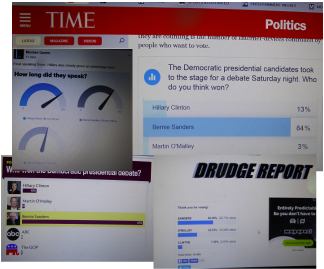 December 19, 2015. New Hampshire. In the third Democratic Debate, scheduled and run by Clinton supporters and former Clinton employees, Bernie Sanders and Martin O'Malley fearlessly took the stage in a setting wherein Hillary Clinton was given significant extra advantages in terms of treatment and speaking time. All polls showed Bernie Sanders as the clear winner of the debate by a super majority. As to the second place showing, the polls were mixed with many showing Martin O'Malley defeating Hillary Clinton. A Telegraph.Co.UK poll of winners and losers was among the polls showing O'Malley in second place. Sanders was the clear winner there and the only one of the three candidates who had more positive ratings than negatives (7200 positives to 288 negatives) while O'Malley did the second best (1000 positives to 2900 negatives). Hillary Clinton was seen as severely undesirable with 653 positives to 4500 negatives votes. It would be hard for a President viewed as negatively by the British as Clinton to credibly conduct international relations with our Government's number one international partner.
---

Poll of who won and lost conducted by Telgram.co.uk ,
a British news
service.
---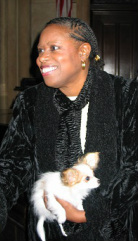 For Sanders and O'Malley, the debate took place in enemy territory. ABC, which aired the debate is among Clinton's top 1% supporters and the DNC, which sponsored the debate and set the rules, is run by Clinton's 2008 campaign manager, Debbie Wasserman Shultz. Bill Clinton is on the DNC's debate leadership board setting the rules.
Hillary Clinton was given significantly more debate speaking time than the other candidates with O'Malley receiving the least. Clinton would often make false comments regarding Sanders while the hosts prevented Sanders from responding with the correct facts. O'Malley also tried to break into discussions where the hosts had excluded him, only to be reprimanded by the hosts. For viewers, it looked like ABC was airing the Hillary Show with limited input from other candidates. Still the polls show that Sanders won handily and that the extra time didn't do Hillary any favors.
Clinton falsely accused Sanders of voting for war with Libya. She falsely characterized a resolution regarding the United Nations as an authorization for war with Libya. She repeatedly spoke as if Sanders had voted for some non-existent Congressional war authorization for Obama to take America into the unauthorized war. Sanders visibly tried to speak out to correct Clinton's false statements but the debate hosts denied him the opportunity and later Clinton's media supporters repeated the lie as if it were fact. See the video below of eight-term Congressman Kucinich explaining that President Barrack Obama violated the
Constitution of the United States
when Obama took America to war with Libya without Congressional approval. In other words, Hillary Clinton more than once during the debate falsely claimed (ie. outright lied) that Sanders had voted for a war authorization that only took place in her mind. Clinton as Secretary of State, not Sanders, had been the one who help lead America into an unauthorized war. But then Clinton has a long history of supporting regime change, such as her strong support for the Iraq War Powers Resolution.
Clinton continued with the falsehoods mischaracterizing her reasons for war to remove the pro-African government in Libya. Clinton's false claims regarding Libya were similar in nature to George W. Bush's false claims of weapons of mass destruction in Iraq. The actual goal of the war was to stop Muammar Gaddafi from following through with his plan to
unite the Continent of Africa,
something that would have inconvenienced Clinton's contributors from the oil industry. At the time of the unauthorized war on Libya, six term Democratic Congresswoman and former Green Presidential candidate Cynthia McKinney (pictured to the right) went to Libya, discovered the American public was being lied to and proceeded to conducted a
nationwide speaking tour
to educate the American public on the true nature of
what was taken place in Libya.
---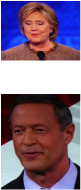 Clinton was also nailed by Sanders and the public regarding false claims that single-payer would increase the costs of health care when estimates by physicians and economists have repeatedly shown it will eliminate insurance costs and result in a savings of
$150 billion
dollars to the American public. Comparisons have established that people in other countries with single-payer spend significantly less for better health care than Americans do for poorer health care. Clinton went on to claim that an approximately $1 cost for paid family leave is a middle class tax. Most viewers interviewed said that Clinton lacked credibility throughout most of the debate. A number of women said that her use of her sex as a campaign issue, coupled with her obvious fabrications, undermined women as a whole.
Martin O'Malley called Clinton on her frequently changing positions, some of which he essentially accused her of plagiarizing from his campaign. He also spoke of her hawkish attitude of pushing wars and regime changes. Many of Clinton's positions were not popular with audience members, including her plans to put troops (using words like special forces) on the ground in Syria. Although viewers did not agree with all of O'Malley's positions, he received an overall positive reaction from debate watchers due to what was perceived as an honest approach, similar to that of Sanders. Many viewers stated they would support a Sanders-O'Malley ticket.
The only candidate to address the over-population of prisons and the attacks by the police on people of color was Bernie Sanders. Hillary Clinton has a serious racism problem, having a background as a Goldwater Girl, expressing consistent support for the death penalty, failing to address concerns over her
profit-making
operations in
Haiti
at the expense of the Haitians that may be winding up in her campaign.
George Stephanopoulos, former spokesperson for Hillary Clinton's husband Bill Clinton, lead a discussion prior to the debate wherein the public was misled as to poll results regarding the candidates. Stephanopoulos's panel also misled the public as to the nature of a security breach created by a software company (NGP Van, Inc.), whose vice president is Aharon Wasserman, t
he nephew of Clinton's former campaign manager Debbie Wasserman Schultz, who is also the current DNC chairwoman. The Sanders campaign blew the whistle on an earlier security breach in which Sanders was also a victim. No action was taken by the DNC with respect to Wasserman Schultz's nephew's company. So, it happened again with the voters data from all three campaigns being leaked by the nephew's company. Claiming that a worker on the Sanders campaign looked at the data while an unknown number of Cllinton workers may have looked at the Sanders's and O'Malley's data, Wasserman Schultz confiscated the Sanders voter data, that the Sanders campaign had collected and paid the DNC to store at the DNC website. The estimated loss to Sanders was reportedly $600,000 per day. After outraged voters and public officials called for Debbie Wasserman Schultz's resignation and the restoration of Sanders's property to the Sanders campaign, the DNC finally relented. There were also calls for a criminal investigation into the actions of Wasserman Schultz and Clinton. During the debate, Sanders, apologized the terminated worker who had reportedly viewed the data leaked by Wasserman Schultz's nephew's company while Clinton failed to apologize for her role in the problem. The American people responded to the DNC's miconduct by giving Bernie Sanders $3,000,000 over the last few days.
As usual, the debate finished with Clinton, who showed how a million dollars in donations from J.J. Abrams and his wife could get her to say anything they wanted. Her closing remark of "May the Force be with you," was the million dollar line and also a tribute to Disney (ABC) for giving her more time than the other candidates in the debate.
---

It turns out Hillary's Wall Street money isn't everything. Bernie Sanders now has a record two million individual contributors, more than any Presidential candidate in history. According to debate polls, the
Iowa Youth Caucuse
s and
Western Illinois University's mock election
(a school with 100% accuracy in election predictions), Bernie Sanders will be the next President of the United States. So, while it is election games as usual for Clinton, the majority of Americans are preparing to watch Bernie Sanders become the 45th President of the United States.
---