Sanders Wins New York Debate as Clinton Is Trapped in Lies, Stonewalling and Support for Genocide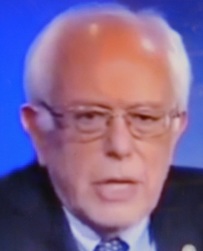 April 14, 2016. Brooklyn, New York. Bernie Sanders picked Brooklyn as the debate location for this Ninth Democratic but the moderators were from Hillary Clinton's camp. Sanders won the debate by a landslide according to viewers. Despite obvious bias among the moderators towards Clinton, viewers found Sanders more convincing. Clinton was frequently booed by the live audience.

According to viewing audiences, Clinton was seen as "lying," "stonewalling," and "supporting genocide." Repeatedly she was asked about releasing her Wall Street transcripts. It was pointed out that she was running for the Democratic nomination and her only opponent in the race had released all of his zero Wall Street speeches. After Clinton uttered excuse after excuse, the question was eventually dropped. When asked about whether she would lift the cap on Social Security that allows millionaires to pay disproportionately less than all the middle and lower classes into it, she repeatedly failed to answer the question and stonewalled again. Clinton used this technique of answering hard questions frequently during the evening.

She was frequently caught outright lying, often being called on her prior inconsistent comments on positions she claimed she had had all along. She was also nailed on comments that were statistically shown to be untrue, such as her false claim that most New York guns came from Vermont. She often was corrected after lying about Sanders record on issues. Clinton claimed to have the support of unknown financial experts in attacking Sanders's financial plan though 170 of the the top experts in the country have gone on record in support of Bernie Sanders financial plan, saying his plan would save the country trillions. Even her husband's Secretary of Labor has come out in support of Bernie's financial plan and called Clinton out on her false claims regarding that issue.

Sanders came across as having a significantly superior understanding of foreign affairs from trade issues to matters of international diplomacy. Clinton showed no compassion for children killed by wars she supported and, from her statements, it was clear that she would be willing to allow complete genocide or annihilation of a race to protect one Middle Eastern Country that has provided her with substantial contributions. Sanders showed a more neutral response and a concern for life over purchased ideology. The debate left no question among observant viewers that a Sanders Presidency would mean a peaceful, diplomatic approach to international relations and a Clinton Presidency would result in more wars and the deaths of possibly millions of children.

The problem with New York is that the time to change voters registration was last year. Recently, when voters went to check their registrations, 50% of Sanders voters found that someone had changed their party affiliation without their consent. Such was not the case with Clinton supporters, leading people to believe that the Clinton computer team was responsible for the alteration of the voter registrations. That means that, for every person who votes for Sanders, there is an additional person who would have voted for Sanders had that person's registration not been altered illegally. In other words, if Sanders receives 10 million New York votes, there are an additional 10 million New Yorkers who would have voted for him if their registrations had not been changed.. So his numbers need to be doubled when comparing his momentum in New York--unless the voters who are finding their registrations altered are allowed to have their votes counted. The DNC will not adjust its count to account for the fraud, but those keeping track of momentum and support are expected to do so. Everyone is encouraged by the Sanders campaign to demand a ballot or to at least vote an affidavit.

Never before in history has a candidate as close to indictment on numerous grounds, as Hillary Clinton appears to be, been pushed by a major political party towards its nomination. As many Democrats as Republicans want Clinton indicted. Barack Obama, is viewed as the Jerry Ford of the 21st Century in blocking the indictment.

Additional polling reveals that, if Sanders ran independently against Clinton and any of the Republicans, he'd win the three-way. Democrats who are supporting Sanders claim that Clinton's apparent election fraud absolves Sanders of any expectation or need to support the Democratic nominee, unless it's him. However, Sanders, as of yet, has not hinted at an independent run. If he does not run as either the Democratic nominee or as an independent, the Republicans are expected to win the Presidency and both Houses of Congress. Most Democrats are angry at their party and a Clinton nomination is seen as the death of the Democratic Party. A large percentage of Democrats and independents see the worst case scenario or a Donald Trump Presidency as resulting in nothing happening for four years while they build momentum for a nominee of the people's choice.

Truthdig's Editor-in-Chief Robert Scheer a long-time supporter of the Democratic Party, has said he cannot back Clinton. Neither can close to 50% of registered Democrats, many of whom will either vote for an independent or write-in or not vote at all if Clinton is nominated. Sanders is not just seen by activists as the last hope for saving the planet and the middle class, but is also seen by political observers as the last hope for saving the Democratic Party.

New York votes on the 17th and the votes are not expected to reflect the will of the public due to the 50% disenfranchisement of Sanders Democrats. California, which has the most delegates and largest population is expected to provide Sanders with enough delegates to help him win the nomination, regardless of what happens in New York. Whatever happens, the Democratic Convention is expected to erupt in a floor fight with the result depending on how seriously Democratic delegates want to win the 2016 general election.


​




---