More than 90,000 Democrats Call for Arrest of Bill Clinton: Proof Surfaces Sanders Won Massachusetts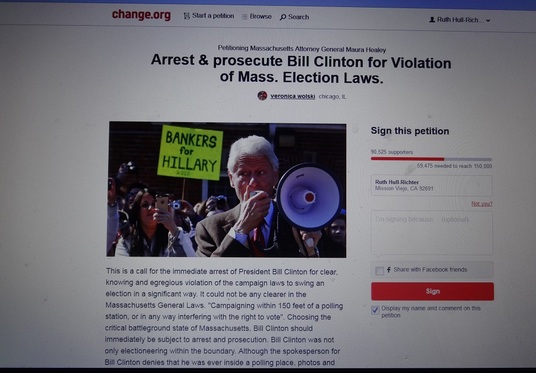 March 3, 2016.
Within a few hours of a petition calling for the arrest and prosecution of Bill Clinton going up on Change.org and circulated in Democratic circles, over 45,000 Democrats had signed on. By the next morning, over 80,000 had signed and by this afternoon over 90,000
had signed the petition.
By the time you read this, it could be well above 100,000
This petition was the response to Bill Clinton openly committing and flaunting election law violations in front of TV and other cameras on behalf of Hillary Clinton campaign. These violations were caught on camera at various Massachusetts polling places in the Boston area as Massachusetts Democrats were voting or attempting to vote in the Democratic Party primary, deciding between Bill's wife Hillary and Senator Bernie Sanders.
The Clinton campaign was caught on camera obstructing Sanders voters from entering the polling place. Bill Clinton closed one polling place for two hours. The obstruction of the right of voters to vote is a crime. Bill was not legally allowed to campaign within 150 feet of the polling places but TV cameras caught right out front well within that distance campaigning for his wife. Other cameras showed him campaigning inside the polling places. Also caught actively campaigning for Hillary Clinton alongside Bill within 150 feet of the polling locations was Boston Mayor Marty Walsh. There are calls for his arrest as well.
Some Sanders supporters were actively harassed and told to partially undress and turn their clothes inside out if they were to enter and vote.
The
unadjusted exit polls
clearly show Sanders won the Massachusetts vote by about 7 percentage points, contracting the official results following the unexplained disappearance of Sanders votes. Massachusetts has a variety of voting machines, some containing software proven to be easily rigable. Bev Harris of
Black Box Voting
and others have proven that the results from Diebold computers, used in Massachusetts, can easily be flipped and altered with minimal effort. Over 600 Sanders votes disappeared in Roanoke County. Those are just the documented votes that were recorded on screen captures before suddenly they disappeared. None of Hillary's votes there disappeared. Thanks to screen shots, voting rights advocates have the evidence and are standing up against the fraud.
Additional Democratic petitions call for the forfeiture and removal of Hillary Clinton's Massachusetts delegates as a result of her campaign's clear and open violations of campaign laws and cheating in Massachusetts.
Change.org's petition
entitled, "
We Demand the DNC Rescind Clinton's Massachusetts Delegates Due to Breaking the Law"
has also garnered thousands of Democratic signatures.

In Georgia, a significant number of Sanders voters were greeted with Republican ballots that did not include the name of Bernie Sanders. They had no ability to vote for Bernie Sanders. This is reminiscent of the Congressional run-off in Georgia's Fourth District in 2006. There, very popular six term Congresswoman Cynthia McKinney was running for re-election. She had garnered more votes than anyone in her primary but the runoff was an election where a lot of vote fraud took place. Republicans and out of the district KKK members and pollution company lobbyists were allowed to illegally vote. The Diebold machines had no paper trail and Cynthia's name was not on the ballot for her own election in key precincts. Like with the Sanders vote, the voters complained but were not able to vote for their hero. In 2006, the Democratic establishment was contacted by the members of the Patrick Henry Democratic Club of America and others on Election Day in an attempt to give the voters back their right to vote for their candidate. Howard Dean's office did not care about the disenfranchisement of Black voters. Neither did other establishment Democrats who said they would study the problem. The only one of those called who seemed to care at all was John Conyers. Though the exit polls showed McKinney landslided to victory, she lost her seat because the Democratic voters were not allowed to vote for her. Why didn't the Democratic elites help her? Along with Sanders and others, McKinney led the fight against the PATRIOT Act, the war in Iraq, and other oppressive bills. Like Sanders, Ms McKinney took on the corporate establishment. Wall Street did not like that. Readers may want to look at Cynthia McKinney's record of courage and of standing up for the 99%. The courageous Congresswoman has often risked her life to bring medical aid to children injured in genocidal attacks. The loss of Georgia in 2006, like the loss of Georgia on Super-Tuesday, 2016, speaks loudly to the Democratic establishment's lack of support for voters' rights and it's support for the outcomes of rigged elections.

Videos show that in Nevada, Hillary Clinton's campaign was allowed to count as voters those who were not registered to vote in Nevada. Her campaign was allowed to count people who were not present at the caucuses. In Iowa, Sanders supporters were told to leave before the counting of votes as caucus vote takers refused to allow the counting of votes while the bulk of voters were present. The Clinton campaign was caught counting voters who were not present. This was all caught on video. Under-cover video exposing intentional election crimes encouraged by an attorney at the head of Clinton's Nevada campaign has surfaced as well.

At the California Democratic Convention, a great many delegates stated that voting for Clinton, should she be nominated, would be an endorsement of election-rigging and war and they could not do that. Democrats are willing to lose the General 2016 Election in what they hope will be an educational experience for their party. Polling indicates that Hillary Clinton cannot win the November election. She is separated from Trump by one point and losing to all other Republicans. Routinely, Democrats do many points poorer in the elections than in the pre-election polls as a result of low Democratic turnout. Experts are saying that a Hillary nomination means a Trump Presidency. The rigging of the 2016 Democratic nomination is being called, "political suicide."

Bernie Sanders is winning swing states by large margins, doing very well in states needed for a November General Election victory. Hillary is winning Southern States that are not expected to vote Democrat in November. Some ask how, when Sanders won Colorado by a landslide, Clinton was given an equal number of delegates. Some see this as a sign that the Democratic Party is upstaging the voters in yet another way. Millions in small donations continue to flow at an increasing and unprecedented rate into the Sanders campaign. Polling and voting show that, if one national primary were held to determine the winner, instead of states selecting delegates, it would no longer be a nail-bitter and Sanders would win the Democratic nomination by 5 points or more.
---