Ajamu Baraka Wins Vice Presidential Debate as Kaine Bullies his Way to a Big Loss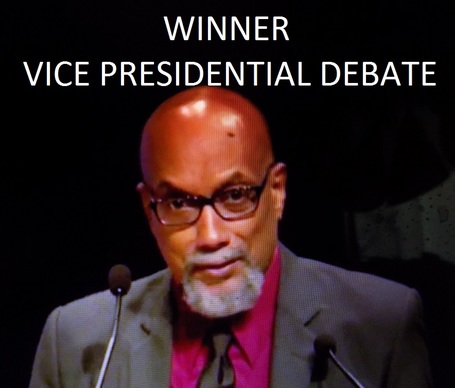 October 4, 2016. Democracy Now turned what the Democratic and Republican Debate Commission had tried to rig as a "no third party" debate into an all inclusive debate, allowing third party candidates to join in. Ajamu Baraka (the Green candidate) accepted the opportunity to debate Democrat Tim Kaine and Republican Mike Pence while the Libertarian candidate showed no interests in presenting his views on the debate questions.

While debate moderator Eiaine Quijano, clearly favoring Tim Kaine, lost control of of the two-person debate she was supposed to be running, Amy Goodman of Democracy Now proved to be the more professional debate host.

Tim Kaine repeatedly lost control, interrupted, bullied his opponent and proved to be the king of insults. His whiny, irritating, unprofessional debate style pushed most of the small percentage of the audience who agreed with some of his positions into hoping he never got to be one step away from President. Kaine came across as rude, offensive and seriously out of control. Given Hillary Clinton's frail health and the likely possibility, if not probability, that her Vice President will take over for her before the end of her term, the fear factor is now working against Clinton. Tim's support for free trade and the TPP, along with other unpopular positions, has been an irritant to most Democrats ever since he was picked for to be Clinton's running mate.

According to polls, most Americans do not agree with Mike Pence on most issues. However, he was restrained, obeyed the debate rules and chose not to let Kaine's barrage of insults affect his demeanor. In other words, Pence was in control and Presidential in his manner, conveying the impression that, unlike Kaine, he will not lose control if he winds up in the number one job. Pence's skill in debating style dramatically overshadowed his positions that, like those of Kaine, Hillary Clinton and Donald Trump, favor the top 1% over the general populace. According to polls (including the CNN poll) that excluded Ajamu Baraka, Pence was the winner among the two major party VP candidates.

According to more inclusive polls, including the quick poll done by the Justice Gazette, the clear winner of the debate, when all three debaters were taken into account, was Ajamu Baraka. Baraka came across as extremely Presidential, well-spoken and reasoned. He also gave the answers that the majority of Americans wanted to hear but did not hear from either the Republican or Democratic candidate. Unlike Kaine, Baraka did not have to resort to insults but rather refrained from making any personal attacks and instead spoke with an air of wisdom and compassion. His voice was rich and commanding and his speech reflected his intelligence, education and understanding of problems facing America. Dr. Jill Stein is in excellent health but Stein's supporters have no qualms about a Baraka Presidency. The same cannot be said for the supporters of the other two Presidential candidates and their Vice Presidential picks.

In the last day, another American populist leader has spoken in support of Green Presidential Candidate Dr. Jill Stein. That populist is Dr. Ron Paul, who is supporting Stein over Libertarian candidate Gary Johnson. This is because Stein embodies more of the Libertarian views than the current Libertarian candidate. Gary Johnson is pro-TPP, a position most Libertarians and Ron Paul oppose. Paul, a former Libertarian candidate for President, was a Republican Congressman for decades and a candidate for the Republican nomination in 2008 and 2012 Paul joined Dennis Kucinich and Cynthia McKinney, in leading the opposition to the wars, the Wall Street Bailouts, the PATRIOT Act, and the free trade agreements. Paul's son Rand ran for the Republican nomination in 2016.

The clear losers tonight are Tim Kaine and Hillary Clinton. A Trump Presidency seems more likely following the Vice Presidential Debate. While there are fears Clinton may try to rig the election, it is becoming less and less likely that Clinton will be legitimately elected. A growing number of Progressives are telling their fellow Democrats that, if they want to defeat Turmp, their best shot is to elect Jill Stein.


---