BERNIE LANDSLIDES OVER CLINTON IN THREE NEW AND IMPORTANT ELECTIONS:
IDAHO, UTAH AND AMERICANS ABROAD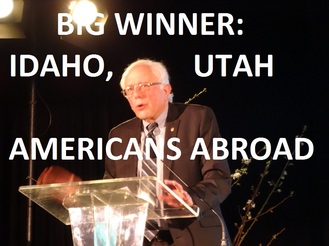 MARCH 22, 2016. With landslide victories in Idaho and Utah to add to his weekend landslide victory among Americans Abroad, Bernie Sanders proves he has staying power and the ability to landslide to victory in even unlikely places.

Utah, with it's strongly LDS culture and its history of electing conservatives is the last place one would expect a victory for a liberal like Bernie Sanders. But those who are surprised are unfamiliar with the fighting spirit of Utah Democrats. The Democrats in Utah are fighting hard to change the reputation of their state and bring it into the 21 Century. They want to make their state a leader in human rights while restoring honesty and integrity to the national Democratic Party. In giving Bernie approximately a 3 to 1 landslide victory of 74% to 24% over Clinton, Utah proved that the Democrats there are fighting liberals who are ready to do what it takes to end the cronyism that has all but coronate Hillary Clinton among the national party's establishment.

In Idaho, as American as potatoes, Sanders trounced Clinton by close to a 4 to 1 margin (78% to 21%).

This was on top of Sanders proving that he is the Global Candidate in the Americans Abroad election for the Democratic nomination where Sanders defeated Clinton by will over a 2 to 1 margin (69% to 31%). Announced March 21, 2016, this was the vote of Americans living in 170 countries around the world. The Americans Abroad vote is, in many ways, the most important vote in terms of which candidate is better on international policy. Those living with the international community and hearing what people and leaders of other countries have to say about America without the American media bias are more in touch with what kind of American leadership is needed to improve our country's standing in the world. Americans living in Europe have often expressed their concerns that Clinton would be an embarrassment as President while Sanders would make the country popular again. Many abroad feel Clinton just makes too many of what she call "mistakes." Foreigners see it as corruption. Americans Abroad feel our country and citizens would be lessened by having someone internationally seen as dishonest and warmongering serve as President. On the other hand, Sanders's policies are more in line with those supported by Western Europe . Those abroad feel Sanders and his policies and plans would be welcomed by the leaders around the world. According to those living n Europe and other parts of the world, Sanders is seen as wise, compassionate and a more capable leader.
---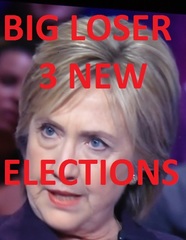 Campaign workers and voters in Arizona are shocked by what they call blatant vote rigging, the disenfranchisement of more than a million voters, and what they believe was vote-flipping in their election. Many filmed the areas surrounding polling places where long lines of voters had to stand for hours, only to be told that their votes didn't matter or wouldn't be counted. Longtime Democrats voting for Sanders were given provisional ballots that wouldn't be counted on election day. Because of the irregularities and unlikeliness of the vote count, Clinton's victory in Arizona is not seen as legitimate by the voters there, many of whom have already put together a petition challenging the results.

Though the Democratic Party of Arizona said it would look into the problem of so many registered Democrats being told they could not vote, this is viewed as the fox guarding the hen house. The Democratic Party of Arizona actively worked to close 140 of 200 polling places in Maricopa County, which resulted in long lines. While people in line still had hours left of waiting before they would be allowed to vote, the media told them the election was over and their candidate had already lost. Despite discouragement from the media, tens of thousands statewide continued to wait in line to vote long after the polls closed. With Arizona joining the ranks of questionable victories for Hillary Clinton, people are asking, "Can Hillary win anything without cheating?
​
The good news for the Democrats is that Bernie's victories are clear and prove that election can be won fairly. In national polls, while Hillary would lose to Donald Trump, Bernie would beat him by 20%. ​
---