California Youth Rights and Single-Payer Advocates Back Ricardo Lara
for
CA Insurance Commissioner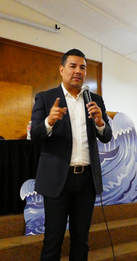 of the February 21, 2018. California. Ricardo Lara, author of California's single-payer legislation, is running for California's Insurance Commissioner with the full support of youth rights and universal health care activists across the United States.

Not only has Ricardo Lara stood up to Wall Street and the Insurance Companies, but he has also stood up to what youth rights activists call "Gulag Schools" and camps AKA behavioral modification programs.

A decade ago George Miller had Congressional hearings wherein testimony from Greg Kutz, Managing Director of Forensic Audits and Special Investigations Government Accountability Office (GAO), parents of deceased children, and other sources revealed that teens were being tortured and killed in these behavioral modification programs. George Miller got bi-partisan legislation to regulate the programs through the House of Representatives but the U.S. Senate wasn't interested in protecting the youth.

In California, Ricardo Lara succeeded in drafting and getting into law legislation protecting the youth by regulating these programs. His legislation took place after two youth died close together in California programs and was a response welcomed by youth rights advocates across the United States.

Among the organizations that has worked to get such legislation adopted is the National Youth Rights Association, the largest youth rights organization in America.

Ricardo Lara has a long history of standing up for the rights and needs of regular Americans. Though one solitary legislator (Anthony Renden) blocked SB562 (single-payer) in the California Assembly, the vast majority of Californian's are with Lara in backing his legislation and are hopeful that 562 will one day become law. SB 562 is perhaps the most popular legislation that has come before the California legislature in the last century. If the people of California have their way, it will one day become law.

The Justice Gazette is endorsing Ricardo Lara for Insurance Commissioner . The editorial staff believes he has the background and courage to do an excellent job in that position.

Following is a video of GAO's Greg Kurtz's testimony before George Miller's Education Committee in 2007.


---