West Virginia, a "Must Win" State for Democrats, Landslided for Bernie while Shunning HIllary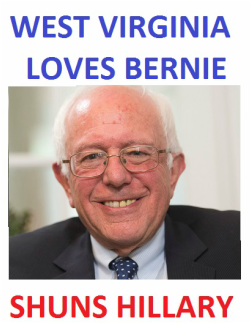 May 10, 2016. West Virginia. West Virginia, traditionally a "must win" state for Democrats, voted their clear support for Bernie Sanders to be the Democratic nominee while shunning Hillary Clinton and sending a clear message that the state will NOT support Hillary Clinton if she is nominated.

All Democratic close general victories have included the State of West Virginia in their electoral votes. In all victories since and including 1932 (with the sole exception of those of a popular Barack Obama), the Democrats have carried West Virginia in every general election where they have won and acquired the White House. Hillary was decimated last night, getting 35% with Bernie being the high winner. Bernie won each and every county in West Virginia. Half of the Democratic voters polled in West Virginia said they would not vote for the nominee if it was Clinton in the general election. Hillary can't claim Obama's popularity which carried the country in 2008 and 2012 as national polling has shown most Americans think she is dishonest and don't like her. West Virginia sent a clear message to the Democratic National Committee that, if Bernie isn't the nominee, the Democrats will lose the general election.

This raises the question of why the Democrats are even considering nominating a Democrat with so many negatives: likely indictment(s), documented vote fraud, mass unpopularity and a refusal of most Democrats to vote for her in a general election. But for election fraud and rigging favoring Hillary, evidence clearly shows that Bernie Sanders would have sewn up the magic number for nomination already. The Bush, Cheney, and Koch supporters are pouring millions into Clinton's campaign. Is she planning to use it to rig the general election? Polls show that absent rigging, Hillary would lose the general election. Despite some of his extremist talk, Donald Trump has adopted more of Bernie Sanders's important positions (for example, single-payer health care, opposition to Citizens United) than Clinton has. In fact, Clinton has specifically clarified that she does not intend to include Sander's major positions and that she is working to try to unite the Republicans behind her. Sanders's delegates are being excluded from the DNC rules committee and other important DNC committees in a seeming attempt to undo his victories in the primaries and caucuses. If Clinton is nominated, Trump might want to consider putting some of his millions into preventing election fraud.

For most Democrats aware of the election fraud, Clinton will never be a legitimate nominee. Polls also show that, if Sanders runs as an independent against Clinton and Trump, he will receive the 270 electoral votes required for the Presidency. Democratic voters are signing petitions for Sanders to run as an independent. (Note: in California, "independent" does not mean independent when registering to vote.) Jill Stein has offered him the Green Party's nomination to provide easier ballot access. Sanders has united the independents while Clinton has dissed them and made it clear that she will represent Wall Street over the American people as President.

More of a concern to voters is the loss of democracy in America if Clinton is allowed to steal the Democratic nomination and/or the Presidency. Loyal Democrats see the only way to save the right to vote in America is to defeat Hillary Clinton in the general election. It is the Democratic voters who plan to defeat Clinton in November if she is nominated. She is seen by election protection experts as a traitor to the United States and its people and Democrats are calling themselves "patriots" in standing up for fair elections over HIllary Clinton.

Democrats have called for former President Jimmy Carter and the United Nations to help monitor the primary in California. It has been pointed out that, if President Carter could help Venezuela provide fair elections, he could do the same for his own country.

​



---