Democratic Insiders Contemplate Usurping Nomination for Biden as Clinton Implodes and Public Demands Sanders Be Nominated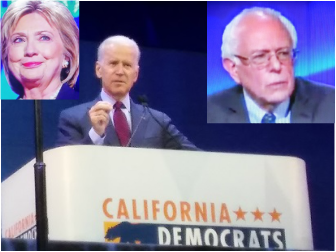 April 7, 2016. Democratic insiders are privately expressing concern about Hillary Clinton's stability and her ability to win a general election. Though Clinton media sources place the number of Sanders supporters who won't vote for her at 35%, those within the Sanders camp place this number at closer to 70%. A movement called "Bernie or Bust" has taken off. Much of is fueled by a growing anger, even hatred of Clinton among Democratic voters. While Sanders has unprecedented popularity, the majority of voters would not support Clinton even if Sanders were not in the race. She is seen as untrustworthy unethical, self-serving, dangerous, law-breaking, war-mongering, greedy, and psychopathic by a growing number of Democrats who have vowed to let the Republicans win the general election rather than vote for her.

While Clinton's unpopularity increases, the popularity of Bernie Sanders is growing by leaps and bounds. Until Bernie Sanders, no Presidential candidate in American history has been able to run a successful campaign off of small donations and without the assistance of big money donors. Sanders breaks records for his crowds in every city where he speaks. The media has tried to trap or set up Sanders with unanswerable questions along the lines of "Have you stopped beating your wife yet," to no avail. When the New York Daily News tried to entrap him, their questions actually demonstrated the NY Daily News Staff's own lack of knowledge about the federal government. They confused the Federal Reserve, a private institution, with the federal government, itself. Even some of the five year old activists who have volunteered on the Sanders campaign know the difference between the Federal Reserve and the federal government. Sanders was too polite to tell the New York Daily News staff that their questions were uneducated. He could have suggested they take a course in civics before continuing the interview and might now regret not having done so because of the rag sheet's spin on his diplomatic answers. Fortunately for Sanders, other news outlets, such as the New York Times and the TYT Network gave Sanders high marks for his answers and noted the interviewer's lack of knowledge in asking those questions. The Washington Post and Daily Beast, mouthpieces for the Clinton campaign, tried unsuccessfully to spin the story against Sanders, only to come across as biased in its coverage. All attempts to bring Sanders down have failed as his popularity and donations continue to rise.

As Sanders's popularity increases, Clinton appears to be becoming more and more unglued, threatening to "disqualify" Sanders, as if she has the power to prevent competing candidates from being placed on the ballot. Her threats have only added to suspicions and beliefs that she is rigging elections and engaging in serious felonies against the voters. Many see her threats as a sign of instability. Even her style of laughing is being questioned by some who say she looks drunk or mentally ill. It did not help that Clinton was caught on camera having extreme difficulty inserting a card properly into a subway card reader after being instructed on the procedure by her staff.

When Clinton tried to use the children killed at Sandy Hook in a political attack on Sanders, Sandy Hook families demanded an apology from Clinton and Clinton was seen as going over the top. People across the United States were offended by Clinton's inappropriate misuse of the children's deaths in her campaign.

Most Americans have come to believe that Hillary Clinton has engaged in criminal conduct and that an indictment is only being blocked or delayed by the Obama Administration. The potential for indictment does not just surround her emails. It involves mishandling of money, possible violations of the espionage act, taking bribes from foreign governments, embezzlement of money intended for disaster victims, tax evasion, violations of election laws and other possible crimes. This is the first time someone who is this close to indictment has gotten this far in a Presidential race. The establishment is well aware that it has a problem.
---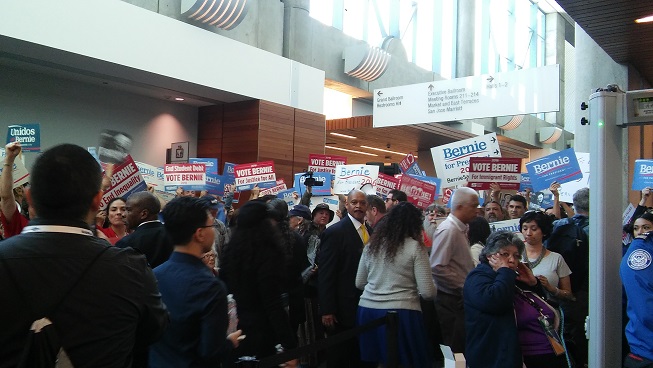 At the California Democratic Convention, Joe Biden gave a speech to a confined, imprisoned crowd, wherein he sounded very much like Bernie Sanders. (Security was preventing people from entering or leaving the hall.) It appeared to delegates that Biden was making a play for the Sanders supporters. He actually made the case at the convention for Sanders's economic plan over that of Hillary Clinton. Throughout the convention, speakers called on delegates to tone down the rhetoric against Clinton. The bulk of these delegates at the California Democratic Convention were elected and considered themselves part of the party structure. Yet Clinton had little popularity there. Outside of the convention hall where Biden spoke, thousands of Sanders supporters rallied in support of their preferred nominee as delegates inside cheered at each reference to Sanders.

While some insiders privately are expressing concerns about a possible indictment, others are becoming more and more concerned about Clinton's seeming mental instability. Still others fear that Sanders may wind up with more delegates than Clinton. Pressure is being put on superdelegates in an effort to keep them in line. Even Elizabeth Warren, known for her progressive rhetoric, is being kept in line by the insiders with a reported offer of a position in the Administration for sticking with the insiders, instead of endorsing Sanders. The one thing the hard-core insiders are not contemplating is allowing the people to have their popular choice if that choice turns out to be Bernie Sanders. There is an underlying belief among high level insiders that they, and not the masses, should decide who the nominee will be.

While Clinton is extremely unpopular among most Democrats, Biden is seen as having far fewer negatives. He has not been involved in election rigging. He is seen as law-abiding. He has managed to keep himself pretty much scandal-free. While activists have disagreed with his votes at times, the anger and hatred directed towards Clinton are not factors where Biden is concerned. Many Democrats remember how he blocked the confirmation of Robert Bork because of Bork's refusal to acknowledge the existence of a Constitutional right to privacy, the basis of William O. Douglas's decision in Griswald v. Connecticut, a contraception case. Biden's main problem would be the Jerry Ford stigma of not being elected, in this case into the nomination. He would likely do better than Clinton against the Republican rivals and might even win the Presidency in a general election. However, many Sanders supporters and people opposed to what would likely be perceived as an oligarchic over-riding of the people's choice would walk away from the party altogether. If the party were to bring in a last minute candidate, it might do better with Al Gore, who at least is viewed as having been cheated out of the 2000 Presidency. Regardless, any attempt to take the nomination away from Sanders could very well backfire in the end.

There is a general feeling that the future of the Democratic Party depends on allowing Sanders to take the nomination. If Sanders wins both California and New York, Democratic insiders may have not a choice but to knuckle under to popular pressure and allow Sanders to be nominated. Independents now outnumber Democrats. A significant portion of Democratic voters have started engaging in talks about starting a new party and laterally moving the masses into the new party. The Democratic Party is expected to shrink dramatically if it fails to listen to the masses who, despite disenfranchisements and vote-rigging, have been doing their best to vote Sanders into the nomination. The Bernie bird has become the symbol of the movement and of the likely new political party. Even if Sanders refuses to run independently, his supporters are independent-minded enough that they will not fall in line with what they perceive as a corrupt and undemocratic party. Adding to the mix, Jesse Ventura has said that, if Clinton is the likely nominee, he will enter the race by June. Anything other than a Sanders nomination is likely to result in a very low turnout for the Democratic nominee at the ballot box in November.

The Democratic Party, though it has gone through dramatic changes, is the oldest of the political parties. It traces its roots to Thomas Jefferson and it's name to Andrew Jackson. Despite its past adaptability and resiliency, this old institution may be on its last legs. The public see greed and corruption as the primary cause of it's likely demise. Is this the end for the Democratic Party? Will it turn into a third party? Or will it save itself by waking up and listening to the voters?
---