Environmentalists Rally Against Obama's Climate Change Agenda (video)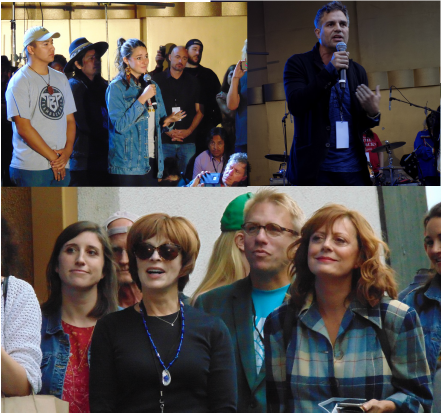 Los Angeles, CA. On October 23, 2016, Angelinos stood out in the rain to watch an all-star plea for saving the planet. During the rally, stars railed against the major party candidates and the Obama Administration for their wanton disregard for the Earth and the people living on it. The only Presidential candidate receiving praise was Green Party candidate Jill Stein. Jill is also the only Presidential candidate whose campaign is actively promoting plans for a protecting the planet from the disasters of oil spills, toxic pollution and climate change.

The star-studded list of peakers/performers included Susan Sarandan, Shailene Woodley, Frances Fisher, Greg Palast, Mark Ruffalo, Ed Begley Jr, Deia Schlosberg, YahNe Ndgo, Jimmy Dore, Nalleli Cobo, Delores Huerta, Lance Simmens, Josh Fox, Gabriel Mayers, Lili Haydn, Cenk Urger, Andrea Leon-Grossman, Yazmit Money Watkins, Doug McLean, Dash Mihok, Joanelle Romero, David Braun, Antonique Smith, Gilbert Cedillo, JR JR - Josh Epstein, Kendrick Sampson, Ozomani and the LA River Choir.
---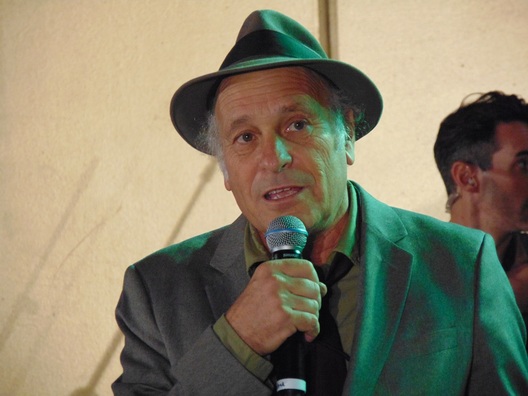 Greg Palast, (Rolling Stone, BBC, Guardian) was the investigative reporter who broke the news of election fraud in Florida in 2000. He is the currently considered the most respected and honest journalist in America. At the climate rally, he pointed out:

"Look, these are serious times. As you know, we have an ultra-rich, psychotic narscisist running for President --- and Donald Trump. So what are we going to do about it? We're going to vote them to death."

People across America are rushing to special screenings of his latest documentary, The Best Democracy Money Can Buy. Greg pointed out that the problem hasn't been too many people vote but rather voter suppression. He noted that 1.4 million ballots from the California June primary have still not been tallied. He has challenged the idea that using arithmetic to show Bernie Sanders won the California primary is a conspiracy theory, a claim put forth by the Washington Post.

"Race and poison go together because I'm going to tell your something. In these united States, from Los Angeles to Louisiana to the Dakotas, they can't take away your jobs, they can't take away your lungs, your life, your water, unless they take away your vote. And tonight, we're not going to stand for it."
---
Award-winning Director/producer/climate reporter Deia Schlosberg (who is facing a possible 45 years for filming a pipeline protest was one of the big draws. She had been placed in jail for 53 hours and was charged with three felonies for doing what reporters are expected to do but the mass media has failed to do. She pointed out that we shouldn't have to be fighting for the First Amendment. She is one of a string of journalists who have been arrested for reporting on the truth. Long afterward, people in the crowd spoke of how touched they were by her courage.
---



Shailene Woodley and YahNe Ndgo have also been arrested for exercising their first Amendment rights. YahNe was arrested outside the first Presidential 2016 general election debate, which excluded two of the main candidates. Shailene was arrested video-recording the Dakota Pipeline protest.

Shailene Woodley (popular actress who starred in Snowden and the Divergent series) extracted a promise from members of the crowd to travel to Dakota to joing the Standing Rock Sioux in their pipeline protest. Shailene, Yahne and Deia are all very genuine and sweet individuals who are very at ease in crowds, even warmly hugging concerned environmentalists they barely knew.
---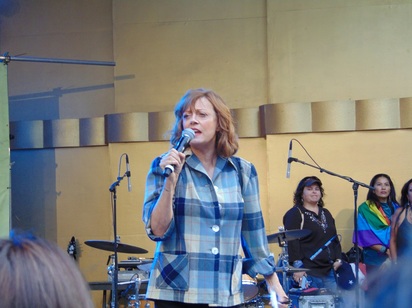 Academy-award winning actress and human rights activist Susan Sarandon gave a powerful, inspirational speech about environmental justice, social justice and corporate greed. She talked about what is happening in Dakota and noted that the news media is not reporting on it. She pointed out that, except for Jill Stein, the politicians aren't talking these injustices. She encouraged everyone to participate in a protest of Obama and of the Dakota Access Pipeline that would be taking place outside her producer's home on 10/24/16. She joked that she could be fired for this.

Sarandon has been one of the most acclaimed actresses and one of the most active social rights leaders in America. She received the Best Actress Oscar for her film Dead Man Walking that took on the death penalty. Individuals of all generations have eagerly flocked to see and imitate her as Janet in The Rocky Horror Picture Show,. She is also known for a long list of other movies, including, The Other Side of Midnight and Bull Durham.
---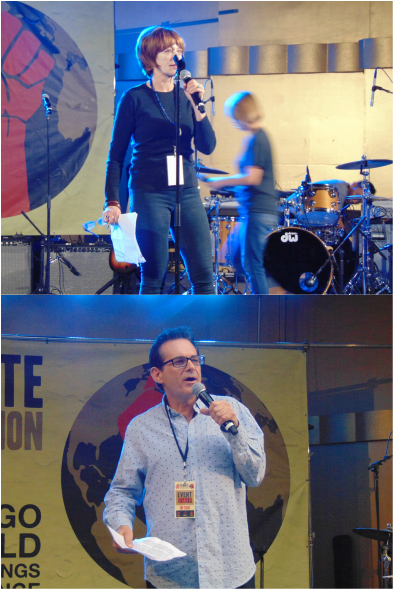 Other very popular entertainers gave powerful speeches. Frances Fisher was the primary Master of Ceremonies. This popular TV/Movie Actress has starred in many Movies and TV shows, such as Titanic and The Edge of Night . At the rally, Greg Palast asked, "Does Frances Fisher have the sexiest brains in Hollywood? Yes."

One of America's favorite comedians Jimmy Dore (TYT, The Jimmy Dore Show) gave a courageous presentation expressed support for the Dakota pipeline protesters and spoke about the climate disaster that is not being addressed by the "media. Following are some of quotes from his speech.

"Oil is not more important water. There are people who don't believe that and those people are running for President."

"The next time I hear a question about climate change during a Presidential debate, I won't be worried about climate change anymore because I'll know that hell has frozen over"

"Insteaed of police officers, we need peace officer.s"


---
After giving an impassioned speech about the struggle for environmental justice and the need for Angelinos to stand up for the environment, Mark Ruffalo (Spotlight, 13 going on 30, The Avengers, Just Like Heaven, Now You See Me) introduced 15 year old environmental activist Nalleli Cabo, who helped shut down a drilling site in Los Angeles. Nalleli, who has been fighting against urban oil wells since she was nine, spoke about the health impact of urban oil wells and about the fight around the world for environmental justice.
---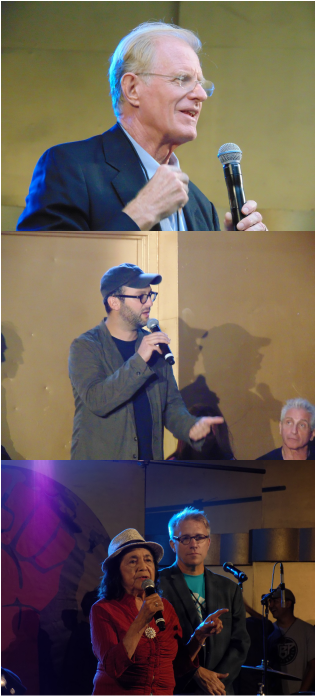 Long-time environmental activist and TV and screen star Ed Begley Jr spoke of the disaster coming as a result of the environmental choices our country has made. Indicating it may be too late to save Lower Manhattan, Ed remarked, "Let's save Midtown."

Josh Fox was one of the main presenters, speaking about the environment and premiering his new movie (Let Go of the World and Love the The Things Climate Can't Change ). People stayed to see it in the rain. Cenk Urgur of TYT spoke against the Trans-Atlantic Partnership ( TPP). Cenk's speech seemed odd to people of the audience as it is known that he is backing the candidate who co-drafted the document. Several people said they were very glad that Cenk did not mention his Presidential choice at the rally as his candidate has done so much to destroy the planet. Hillary Clinton has has received contributions from the corporations responsible for the pipelines protesters are being arrested for protesting.

A major surprise was an appearance by Delores Huerta, who fought for social justice for farm workers along with Caesar Chavez. Delores spoke about the ballot propositions, most especially Proposition 62 (repeal of the death penalty). This is a major issue in 2016 as the next person likely to be executed on death row is Kevin Cooper, an innocent man, who cannot overturn his conviction because law enforcement destroyed and/or tampered with all the physical evidence. All witnesses said the perpetrators were three White guys and Kevin is Black. 62 is matched up against 66, which speeds up executions before Defendants have a chance to overturn wrongful convictions. Between 62 and 66, the one with the most votes wins.

Additional popular environmental activists listed above spoke or performed during hte rally. Despite the rain, the crowd stayed to hear the speeches and see Josh Fox's new movie. As Susan Sarandon stated, the people are waking up.

A number of the speeches are included below. This article only contains highlights and readers are encouraged to watch the speeches for themselves.




---