TAMPA, A BRAVE YOUNG GIRL, STANDS UP TO BIG PHARMA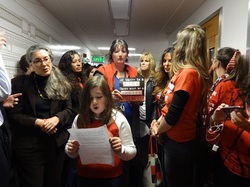 Supported by a crowd of thousands, courageous Tampa stood up to the trillion dollar pharmaceutical industry and spoke out against California's SB 277. Thousands of voters and their children came to the State Capitol to oppose SB 277 at a meeting of the Health Committee for the U..S. Senate . Despite the fact that the majority of California voters oppose the forced vaccine measure, the committee voted 6 to 2 to move the bill forward.


Tampa's speech, quoted below, was received with thundrous applause. Tampa is pictured with her mother behind her.

Hi my name is Tampa. I'm 9 years old, in the 4th grade, Catholic homeschooler, 4th generation Californian, and I'm against mandatory vaccines. There is a lot of risk to getting vaccines. For that reason, SB277 shouldn't even exist. Human rights, religious freedom, parental rights are all being taken away by this. What about our Constitution? What about informed consent?

On the Center for Disease Control web-site, it states that the MMR doesn't cause autism, and I quote, "signs of autism typically appear around the same time that children are recommended to receive the MMR vaccine. Some parents might worry that the vaccine causes autism." Well, why doesn't the CDC change the recommended time to receive the vaccine, then?
And on various pharmaceutical web-sites, it mentions how these vaccines "have not been evaluated for carcinogenic or mutagenic potential, or potential to impair fertility."
I want to have children when I'm older. This is a risk to my being able to do that. SB277 violates my human rights.

---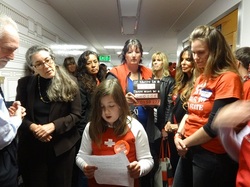 Vaccine ingredients: Aren't mercury and aluminum dangerous? Why would I want formaldehyde in my blood stream? Human cells, insect cells, mouse brains, monkey kidneys is this stuff safe?
I'm not even allowed to eat junk that I can't pronounce. How ethical is it to forcibly inject children with the stuff that's in these vaccines? As a Catholic, the Vatican states that I can consciously object. SB277 clearly violates my religious right to do that.

On March 24th at the Santa Barbara County Board of Supervisors Meeting in Santa Maria, Supervisor Adam asked how SB277 would be mandated. No one gave him an answer, they couldn't tell him. Would someone from Child Protection Services knock on my door while I'm doing lessons with my Mommy and take my little sister and me away from my parents and forcibly inject vaccines into us and then take us to a foster home if my parents don't comply? Or if my Mommy took my little sister and I to Grammy's in another state would she be considered a fugitive? I oppose SB277 because I believe in the right of my parents. Whether they choose to vaccinate or not vaccinate us should be up to them, not the government.

qui bono?

For those of you who do not know latin, it means "Who benefits?"

ex ore parvulorum veritas
---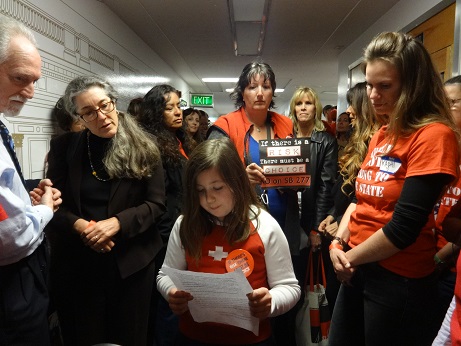 Speech copyrighted © by Tampa S, 2015; pictures copyrighted © by justicegazette.org 2015