URGENT NOTICE TO WASHINGTON VOTERS:
CHECK PLACE AND TIME OF YOUR CAUCUS.
DID CLINTON SEND YOU THE WRONG TIME AND PLACE?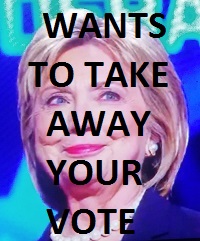 March 25, 2016. Washington State. Voters in Washington State have reported receiving incorrect caucus locations and times in mailings reportedly sent out by the Clinton campaign. The mailings reportedly would send voters to locations miles away from their real caucus locations in what may be an effort to disenfranchise Washington residents.

Voters are encouraged to verify their correct caucus locations and to assist their neighbors and other voters in getting to the correct caucus locations. If you are a student, make sure your classmates and all in your university, college or high school know where to go to caucus on Saturday, March 26.
---