Jill Stein Takes Los Angeles with her
​Green New Deal and Peace Offensive
(Video)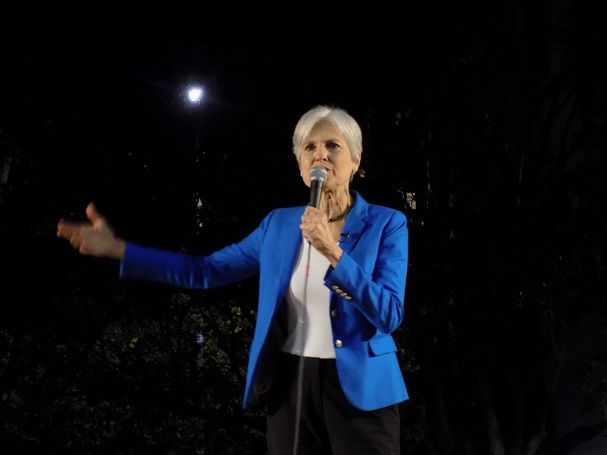 October 5, 2016:. Los Angeles, CA. ​Angelinos were packed shoulder to shoulder to see the woman who has carried on Bernie Sanders's legacy in her own right. Applause after applause roared from the crowd as Dr. Jill Stein, the only Presidential candidate standing up for peace, American jobs, universal health care and an end to college debt, took to the stage in Pershing Square.

Hillary Clinton has a big problem. The crowd, which consisted of many of Bernie's top activists in Los Angeles, made it clear that a real revolution is taking place and this time it is now being led by Dr. Jill Stein. Whenever speakers mentioned Hillary Clinton or Donald Trump or the DNC, the crowd erupted into boos. Those in the crowd old enough to have voted in 2008 had mostly voted for Barack Obama but won't follow the Democrats to Hillary. Not only has Clinton lost the bulk of the Sanders supporters, she has also lost a large chunk of Obama's former supporters.
---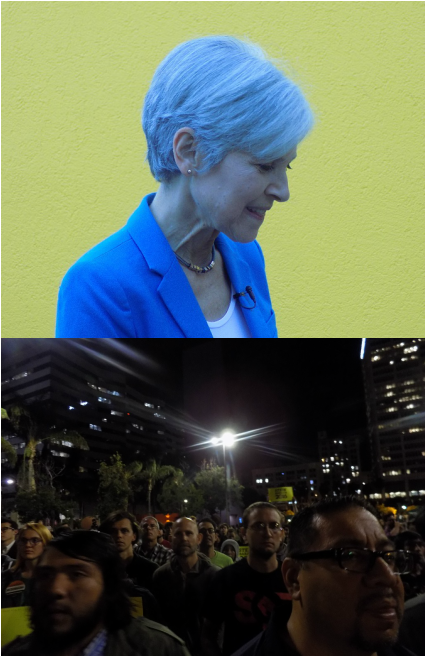 In meeting Stein, the one thing journalists noted was that she is much prettier and younger looking in person than even her pictures and videos reveal. She is extremely personable and actually humble, a very rare but important quality for an American leader. She took time to speak with journalists who were eager to interview her and it was clear from the interviews that her number one concern is helping the people and it's not about her. This time, it really is about us. She has a warm personality that reaches out to the masses.

The crowd eagerly stood for hours just to see her speak and they could not get enough of her. The cheers were thunderous, making it clear that this is the leader the masses have been waiting for in this election. Jill is the only candidate who is carrying on Bernie Sanders legacy. She took the time to praise Bernie and his work in promoting issues she has always supported. She is doing more than carrying on his work. She is expanding upon it, removing student debt from those are already in debt and promoting a realistic and easily achievable peace plan that is designed to end the wars and make the world a more peaceful place for all.

Throughout the crowd, there were new fears of World War III, fears only Jill Stein's revolution can quell. Russia has prepared to quickly get all its citizens underground and China is preparing as well. Clinton and her backers appear to be pushing America into such a war while the rhetoric of Trump and his Vice Presidential candidate Mike Pence also look to take that us in that direction. A growing number of Americans believe that the political elite have no qualms about hiding out in their underground cities while leaving the rest of the populace as sitting ducks. Do you know where your nearest bomb shelter is? Jill Stein provided hope for a safe, peaceful world with her plans for a "peace offensive" and "weapons embargo," designed to end the wars and create a world of peace.

Jill pointed out that America has never seen such a crisis and that the change will never come from the two major parties. Jill pointed out that,

"We cannot have a revolution in a counter revolutionary party."

Indeed, Los Angeles grassroots Democrats have turned their backs on Hillary Clinton and the DNC, even skipping the U.S. Senate Debate, which took place at the same time as Jill Stein's rally. That race is between two Democratic candidates Kamala Harris (the establishment candidate) and Loretta Sanchez (a Berniecrat). California has limited that non-Presidential races to two candidate candidates. Jill will be on the California Presidential ballot and could conceivably win California.

Jill congratulated Angelinos on standing up. She acknowledged that the LAPD is the most violence police force in America. She praised the Standing Rock Sioux Tribe for fighting to protect the environment and water rights. She praised the Bernie Sanders supporters and spoke of the misconduct of the Democratic Party against Bernie Sanders, Dennis Kucinich and Jesse Jackson. From her speech, it was very clear, Jill had a great deal of respect for Dennis Kucinich, Bernie Sanders and Jesse Jackson.

Jill was introduced by Melina Abdullah an organizer for Black Lives Matter. Melina pointed out that Black Lives Matter is not allowed to endorse but she made it clear they would endorse Stein if they were allowed to do so. Speakers from human rights and civil rights organizations across the spectrum spoke in support of Jill Stein. Jill leads the only multi-racial Presidential ticket. Clinton, Trump, and Johnson's tickets contain only rich, white candidates who support the rich, white establishment. Jill Stein has even won over former Libertarian/ Republican Presidential candidate and anti-war leader Ron Paul, who has spoken out in support of Jill Stein and against her opponents.
---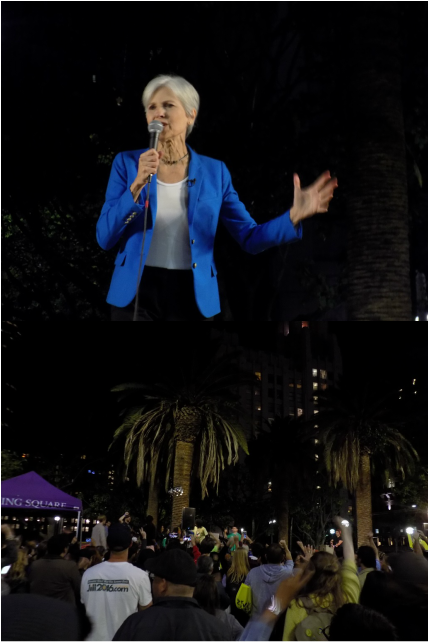 Jill could actually win the Presidency. She pointed out that 43 million are trapped in student debt and that is the number needed to win a Presidential race. She noted that students have a right to a free education. She reminded the audience that we bailed out the bankers who crashed the economy, providing them with 16 trillion dollars.

"We come up with 1.3 trillian dollars, which is what it takes to bail out the students. "

​Jill called for an emergency jobs program with a living wage for all, saying that the economy and climate go together. Her plan is called a Green New Deal. She plans to turn America into a nation of clean, renewable energy by 2030. Unlike Clinton and Trump, Jill understands the nuclear danger, saying nuclear power is too dangerous and too expensive and we don't need it. Unlike Hillary Clinton, Jill Stein is opposed to the Clinton/Bush/Obama free trade deals that have crashed the economy and cost America millions of jobs. Clinton is the candidate who has been largely responsible for the free trade agreements that have cost Americans millions of jobs, expanded poverty and homelessness and nearly decimated the economy.

While Clinton has been a strong promoter of the GMO industry, Jill (a doctor) is calling for safe, organic food. She noted that GMO's make the people sick and the climate sick. Jill plans to bring back the family farms and the community farms.

Jill pointed out that we can have health care for all by putting our health care dollars into health care and not into red tape, bureaucracy and profiteering.

For immigrants, she called for a path to citizenship. She proclaimed that we can stop causing the crisis of migration by going back to the drawing board on NAFTA and the War on Drugs ( a health, not a criminal, issue) which has terrorized people in other nations and by discontinuing the overturning other countries' democracies. Hillary Clinton's Honduran Coup caused a flood of immigrants that Clinton sent back to the violence she had created. To Trump concerns about immigration, Jill summed up the answer, saying:

"We just need to stop invading other countries."
---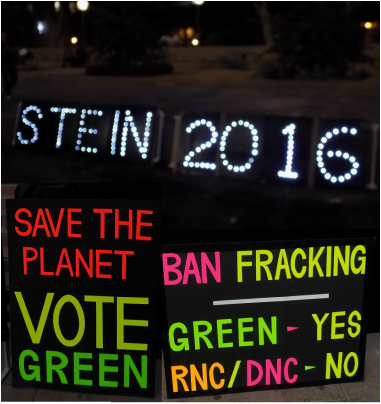 Jill noted that slavery has morphed into police violence and mass incarceration. It's time for every community to have a police review board with the power to hire and fire the police chief and an investigator to investigate every killing.

"Not one more death at the hands of police."

Jill is the only candidate calling for police review boards and for an end to the militarization of the police.

"It's time to have communities in charge of our police instead of police in charge of our communities."

Jill is also the only candidate calling for the abolition of the death penalty. The U.S. is the only Western nation that still uses the death penalty. In California, there is a ballot proposition to repeal the death penalty that disproportionately kills minorities and the poor. It is Proposition 62.

Jill pointed out how the war budget has devastated the economy. The wars are creating more unrest. She noted that we can make these wars obsolete by Greening our economies, instead of going to war for oil.

Jill pointed out that, if we wanted a world works for all of us and that puts people, planet and peace over profits, we must take action in November.

"If we want that world we have to vote for that world."

She noted that beliefs without action don't make a difference. The Democratic Party does not even pretend to oppose fracking or war. Hillary' Clinton's transition chief Ken Salazar and VP nominee Tim Kaine are big frackers who have been strongly pro-war. Though some voters are voting for Hillary based on blind faith that she will become something other than what she has been throughout her career, those at the rally were educated and voting from knowledge and insight.

Jill pointed out that Donald Trump is rising up in a right wing wave of extremism resulting from a surge of right wing misery created directly by the policies of Bill Clinton which were supported by HIllary Clinton, particularly NAFTA and the Wall Street Bailouts, which Clinton pushed through. With the coming over of the Republican leadership to the Clinton campaign, we are seeing a merger of the two major parties. Jill has noted that Donald Trump is the symptom and Hillary Clinton and her policies are the disease.

"In this election, we are not just deciding what kind of a world we will have. We are deciding whether we have a world or not going forward."

"We are the ones we've been waiting for and we do have the power to create that world".

"We are a revolution that is waiting to happen. We are that volter revolt that is on the verge of breaking through."

"Forget the lesser evil. Fight for the greater good like our lives depend on it because they do,"



---
Among the celebrities at the rally were YahNe Ndgo and Kor Element. Kor Element performed a song he had written for Jill that summed up the feelings of the entusiastic crowd that couldn't get enough of Jill. Both Jill's speech and Kor Element's song, video-recorded by The Justice Gazette, are included below.