BERNIE SANDERS: WE WILL END THE DEPORTATION POLICIES (VIDEO)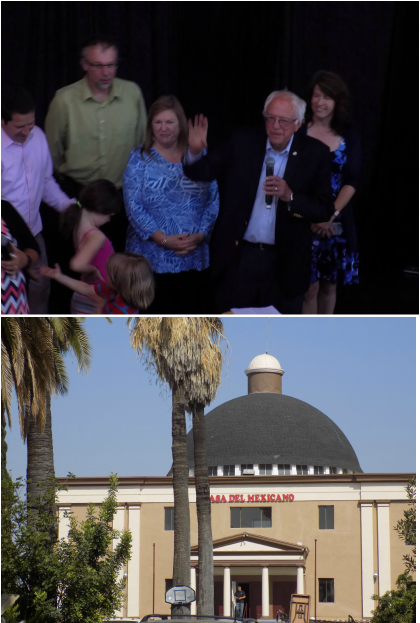 June 4, 2016. Los Angeles CA. Bernie Sanders proved he is the man who will end institutional racism against immigrants if elected President.

He said several times, in no uncertain terms that he would. "end the current deportation polices" and that, if Congress did not act, he would look at taking executive action to bring about the end to these racist policies.

​He repeatedly stated,

"Our immigration policy must be to unite families, not to divide them."

He spoke about the Friendship Wall in San Diego County and Mexico where people on opposite sides of the border would come to see their loved ones while remaining separated by a fence.

One of the panelists was an undocumented pregnant mother who feared traveling past checkpoints and who was frightened of winding up separated from her family. Ha praised her courage and made it clear that his Administration would end the fear and the separations of families

Sanders wants comprehensive immigration reform with a path to citizenship. In contrast, in 2007 Hillary Clinton supported racist immigration reforms opposed by LULAC that would have placed undocumented immigrants into slave labor camps with no path to citizenship.
---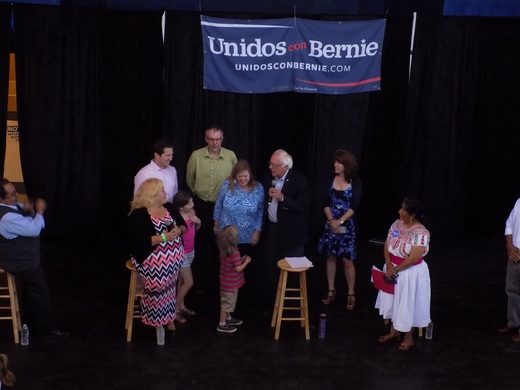 Bernie, the son of an immigrant has one of the best pro-immigrant voting records in Congress.

"It is too late for establishment politics and establishment economics

At the town hall, Arizona Congressman Raul Grijalva, also a longtime top advocate for immigrant rights, spoke in support of Bernie and participated in the town hall. When the Patrick Democratic Club of America rated the voting records of all members of Congress on immigration and human rights issues, Raul Grijalva and Bernie Sanders were among the top scorers and received "American Hero Awards." Hillary Clinton's score was very low.

Los Angeles City Councilman Gilbert Cedillo, who has also endorsed Bernie, spoke in the prelude to the town hall. Bernie's family (his wife Jane, his sons Levi and David, his daughter Carina, his granddaughter Ella and his grandson Dillon) accompanied him to the event. (An editorial comment: Jane is much prettier in person than in her photographs.)

Throughout the event, Bernie was drilled on his solutions for problems and how he would bring about change. He was very relaxed as he answered question after question, receiving applause after applause from the crowd, whose participants came away with the clear understanding that Bernie was the man who would be there for them once he was in the White House.
---
Bernie was visibly moved by many of the horror stories told by participants and provided them with the hope they were seeking that a better world would be created by his Administration. Both Bernie Sanders and Raul Grijalva (pictured above to his left) have fought for years against racial profiling, raids and the too pervasive discrimination against the Latino community, Bernie also noted that other immigrant populations have been subject to considerable discrimination and that his Administration would take all necessary steps to end the mistreatment of all immigrant.
---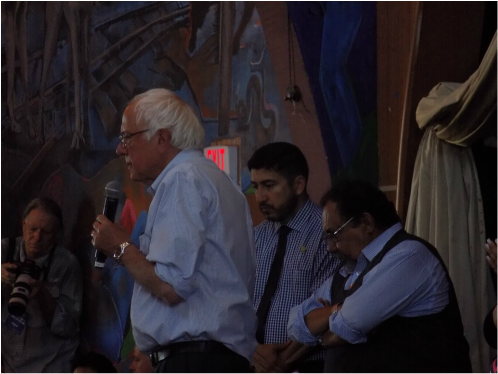 Bernie spoke out against NAFTA, which has exploited the workers of Mexico and elsewhere while costing Americans their jobs.

He plans to end the mass incarceration that unfairly targets Latinos and people of color. His Administration will institute investigations into the death of any person who dies in custody and he will demilitarize the police.

"We have got to end corporate ownership of prisons and detention centers."

He believes that education is the key to success for young people and intends to make sure that public college is available for free to all who desire it. Under his Administration, the United States will join Europe. in providing universal health care, also known as Medicare for All.

He noted that Latinos are a working people and spoke about his plan to bring about a living wage of $15 an hour and to give them a safe recourse to exploitation. He spoke about how now undocumented workers have no ability to report misconduct by employers and this could currently get those reporting snatched and deported.

The following 3-part video of the Town Hall was recorded by Einar Storm for the Justice Gazette.

---