SANDERS LANDSLIDES IN WYOMING,
EIGHTH IN A ROW LANDSLIDE
**ON TO NEW YORK WITH BLESSINGS
OF THE POPE AND BOBBY KENNEDY, JR.**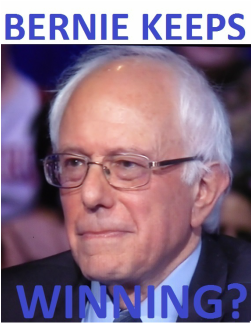 ​April 9, 2016. Wyoming. Bernie Sanders has won an eighth landslide in recent weeks over Hillary Clinton, this one in the state of Wyoming.

This followed a week of yellow journalism from the New York Daily News and the Washington Post, both acting as media mouthpieces for their chosen candidate, Hillary Clinton. Both papers forgot to take a course in Civics, with their editorial staffs confusing the Federal Reserve, a private institution, with the executive branch of the federal government. The result was that their attacks backfired, exposing the lack of journalistic knowledge and strong biases of the editorial staff of the two papers. On behalf of the Clinton campaign, the NY Daily News even tried to Sandy Hook Sanders, an act that backfired on the NYDN and on the Clinton campaign. Families of Sandy Hook victims have expressed outrage towards Clinton for using their lost children in a false attack on Sanders.

In New York, Sanders has the backing of the son of Bobby Kennedy, the most popular Senator in New York's history. Bobby Kennedy, Jr., son of the late New York Senator and Attorney General, has endorsed Sanders. With RFK, Jr., being the top environmental attorney in the United States, he and Sanders share a common interest in saving the planet.

In a surprise to NY Catholics, the Pope has spoken out on behalf of Sanders, and Sanders has been invited to speak at the Vatican. The Clinton campaign tried to defuse the invitation by falsely claiming Sanders invited himself. The Vatican responded with a copy of the actual invitation it had issued to Bernie Sanders. A running joke is that the Vatican couldn't afford Clinton's speaking fees. However, she was not invited.

Adding to Clinton's woes, her husband Bill reminded people of her accusation that Black teens were super-predators when he accused Black Lives Matter of supporting murderers and drug pushers at a rally on April 8, 2016. Most African American youth are supporting Bernie Sanders in spite of the media push to get them to support Clinton.

The Clinton campaign is downplaying the percentage of Sanders supporters who will not vote for Clinton in a general election, claiming it's as low as 30 to 35%. However, the correct number is placed at 70%, according to other sources who have actually surveyed supporters of Bernie Sanders. Despite inside reports that the DNC may dump Clinton and substitute Vice President Joe Biden, Sanders supporters say they will not back any substitution either. Many see the DNC as the enemy, rigging elections on behalf of Hillary Clinton and trying to enthrone a monarch as opposed to nominating a Presidential candidate. Clinton's popularity is at an all time low and most analysts say that a Clinton nomination will cost the Democrats the Presidency and likely both houses of Congress. If Bernie is not the nominee, regardless of whom he endorses, the bulk of his supporters are expected to either write in the nominee or vote for a third party or independent candidate.

So, is it time for Clinton to drop out of the race in the interests of a Democratic victory in November? Those concerned about stopping Trump and Cruz, two Republicans polls show she cannot beat in November, are saying it's time for her to go. Unlike Clinton, Sanders defeats all of the Republican candidates by wide margins. While Clinton's dropping out of the race would assist the party in achieving a November victory in the White House and in both Congressional Houses, Clinton is seen as too self-serving to give away what she perceives as her rightful crown in favor of the party with which she is affiliated. Democratic voters have been asking her to switch parties. This is unrealistic though, as the Republican Party is approximately half way through its nomination process.

Voters are urged to check their voters registrations and make sure they are accurate before going to the polls. Oddly, following a hacking into the Sanders databases, Sanders supporters have been finding their party affiliation changed without their knowledge in numerous states across the country. The Clinton campaign is suspected in connection with the hacking.

Requests have been made to both the United Nations and to former President Jimmy Carter to step in to prevent any further election irregularities. There have been many past reports of alleged fraud and voters suppression on the part of the Clinton campaign. Independent monitors are expected to ease the concerns among voters.
---