BERNIE IS STILL IN THE RACE AS CLINTON'S CHEATING STREAK AND LIES CONTINUE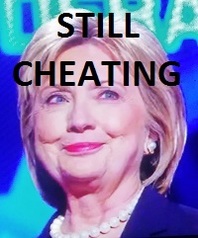 April 28, 2016. As voters report that Hillary Clinton's victories of April 26, 2016 were false victories, full of fraud, Clinton is caught cheating in upcoming primaries states of Indiana and California. Will her campaign's cheating ever end?

In Rhode Island, 2/3 of the polling places had to be closed to limit the extent of Bernie Sanders's victories over Clinton. This previously happened in New York and Arizona, along with removal of Democrats from voters roles. It seems that the best way to stop the people from voting for Sanders is to not let them vote at all.
---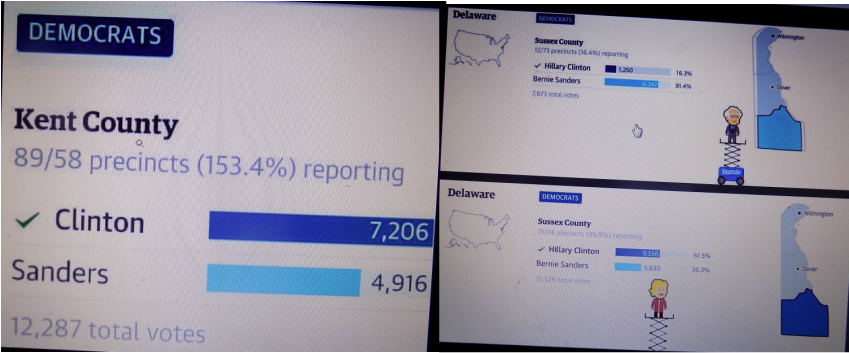 ​In Kent County, Delaware, Clinton won after they counted 153.4% of the precincts. Counting 89 of the 59 precincts is normal in any election, right?

But counting extra precincts in Kent County wasn't enough to give Clinton a victory in the State of Delaware. Sanders had to lose votes in Sussex Counties as the night went on. When 16.4% of the county's votes were counted, he had 6,247 votes. By the time 95.9% of the vote was counted, not only did nobody else vote for him, but his voted count went down to 5,630. Problems were reported in other counties as well.

In Maryland, the Justice Gazette conducted a survey that showed Sanders winning by a large margin, contrary to the Clinton media polls. The results did not match how voters in Maryland said they were planning to vote, a sign that votes were probably flipped. In Connecticut, viewers watched as a Sanders apparent victory was flipped into the opposite victory for Clinton. Vote-flipping can take place easily and election officials have been repeatedly warned by programmers who have demonstrated how it can be done in seconds.
---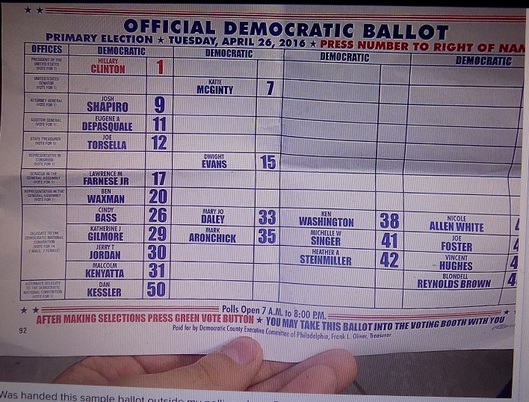 How were Philadelphians supposed to vote for Sanders when his name wasn't even on the ballot in some precincts?

Election fraud in Pennsylvania was more extensive than removing Sanders's name from the ballot. In one county without 300,000 voters, 300,000 absentee ballots were ordered, a possible sign of planned ballot stuffing.

In the video below, there is evidence that the Clinton campaign was allowed to have literature brought into a polling place in Philadelphia. [The following video was uploaded to YouTube by Collectibully.]


---
In news regarding past elections, the ACLU filed a lawsuit against Ohio's Secretary of State John Husted for purging 40,000 voters from the roles. This was reminiscent of New York, where in Brooklyn, 126,000 were removed by an election official who received $4.6 million from a Clinton campaign worker. The massive purges in New York are being investigated by the New York Attorney General Eric Schneiderman, a Clinton man, and being audited by New York City Comptroller, Scott Stringer, also a Clinton delegate.

In Chicago, the voting software flipped the vote 18 points in Clinton's favor. This was later discovered during a hand count. Clinton's vote counts have routinely been high in areas with computerized voting and lower in areas with paper ballots. There have been numerous videos regarding the ease of flipping votes when computers are involved.

In Indiana, election results in an primary that has not yet taken place are already being posted online. Additionally, Clinton robocalls are targeting Sanders supporters to falsely tell them he is no longer in the race. He is very much in the race but truth had never stopped Hillary Clinton. Watch the following video, uploaded by Tim Black.
On Monday, April 25, trolls who paid a million dollars by Clinton's PAC, posted child pornography and violent images on Sanders's supporters' Facebook pages. This triggered the removal of the pages for hours. Where did the Clinton campaign get the child pornography? Posting child pornography online is a felony. Of course, all laws, and apparently child pornography laws, are being waved where the Clinton campaign is concerned.

Several articles have reported that, in California, the Clinton campaign is running Clinton supporters for delegate positions in Sanders caucuses, claiming they are United4Bernie slates.. United4Bernie is a general descriptive that has been used by many people supporting Bernie Sanders, but now that name has been made meaningless by the Clinton teams. As a result, the term may now refer to either Clinton supporters or to Sanders supporters. Bernie Sanders has not endorsed any slates or individuals for delegate positions in California. Reportedly, the Clinton moles are paying for Facebook ads and professional-looking fliers. Most genuine Bernie Sanders supporters are investing their money in the campaign, instead of themselves. Sanders voters have caught onto the infiltration and are planning to drill the caucus delegates on their backgrounds and knowledge of Sanders.

Throughout the campaign, from Iowa to future primaries, evidence indicates the Clinton campaign has cheated in every state it has claimed to have won or hopes to win. Parents are asking what kind of role model a liar and a cheat would be. Constitutionalists are asking whether democracy and the Constitution are dead. Most progressives are simply hoping Loretta Lynch and Barack Obama will stop blocking the F.B.I.'s investigation of Clinton and instead seek an indictment. Historians are pointing out that, if Obama's last act in office is to block the prosecution of a possible felon such that the felon wins the Presidency, that last disrespect for the law is what history books will remember him by

General election polls now show Donald Trump beating Hillary Clinton by 2 points. Those same polls show Bernie Sanders defeating Trump by double digits. Commonly, Republican do better and Democrats do worse in elections than polls indicate. If Clinton is nominated, the DNC will more than likely lose the Presidency unless Clinton is up to rigging the general election. While the DNC does not seem to have a problem with election fraud, the RNC might. Will Clinton be able to cheat her way into the White House or will she be the subject of an indictment? Sadly for Clinton, her indictment would delight most progressive Democrats and Republicans who seem to have united in one common goal, the defeat of Hillary Clinton.