The Revolution Lives On In Ecuador as People's Candidate Lenin Moreno
and
Julian Assange
Defeat Elite Corporatist Lasso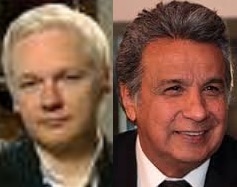 April 2, 2017. Quito, Ecuador. Despite the heavy globalist funding of U.S. backed rich corporate banker candidate Guillermo Lasso, the people of Ecuador won a significant victory with the election of populist candidate Lenin Moreno. The world's most popular journalist, Julian Assange is now safe at home in the London Ecuadorian Embassy and welcome to stay.

Though the people's candidate Bernie Sanders was undermined in the United States in 2016, in 2017, the people of Ecuador showed everyone how a people's candidate can succeed. Like FDR, Lenin Moreno is crippled, confined to wheelchair. But that didn't stop him from standing up for people's rights. Unlike the U.S. general election winners, Moreno ran on a platform of fighting poverty, prioritizing the needs of all the country's people, and working to guarantee health care, education and housing to all. As the homeless population of the United States increases in leaps and bounds, Ecuador has taken a different route, deciding to elect a leader who plans to do something to fight poverty and to elevate the masses, rather than just the top 1%. Running against a rich businessman who planned to put corporations before people, Moreno showed that the people can be victorious if they run a populist candidate in a general election.

As expected, the U.S. corporate media pushed for corporate candidate Lasso and is now promoting a recount. It seems that, when the U.S. media candidate loses, it always questions the election results. The world has been laughing as the American media has been looking for Russians under tables and chairs. Pre-election polls showed Bernie Sanders would have won if the Democratic Party had not rigged the nomination in favor of the most unpopular candidate in the history of the United States. Unlike Sanders, Moreno refused to surrender to the push for corporate leadership. Moreno fought all the way into the Presidency, never quitting until he and the people were victorious.

Moreno's victory was also a victory for the American people, who have come to rely on Julian Assange as the one newsman they can trust for accurate information regarding what is happening in their country. There has never been a refutation of the truthfulness and accuracy of Wikileaks.

Corporate banker Guillermo Lasso had planned to turn Assange over to the Americans, possibly for execution if the U. S. opponents of the First Amendment Right of Freedom of the Press have their way. In London, Assange likely had a late night, waiting to learn of his fate. Now, he can rest assured. Ecuador's next President Lenin Moreno has made it clear that Assange is welcome to continue living in the Ecuadorian Embassy.

Following is a video about Moreno put together before the election and uploaded to YouTube.com byteleSUR English.



---