It's Official: Sanders Landslides over Clinton Proving He's the Most Electable Candidate
New Hampshire results: Sanders: 60%%, Clinton: 38%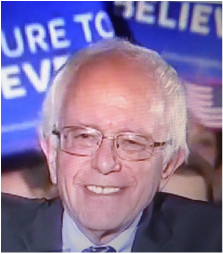 New Hampshire Primary. February 9, 2016. Bernie Sanders landslided over Hillary Clinton to victory in New Hampshire. Sanders won the state by 60% to 38% with 89% of the precincts counted. He won the votes of men of all age groups and women from 17 to 65. For women above age 65, Clinton did slightly better. Sanders won the votes of all economic groups making up to $200,000 per year. Clinton did better with voters earning over $200,000 per year. Sanders defeated Clinton among those who were those held college and graduate degrees as well as voters seeking those degrees and those not having any college. it was a big night for Sanders and he proved that all demographics are in his court.

This was a big loss for Hillary Clinton who won New Hampshire in 2008. Her husband won it in 1992, calling himself "The Comeback Kid" and using the New Hampshire victory to propel himself into the Presidency. For Hillary Clinton, it was not just a loss of a state but a loss of prior supporters, an indication that she has lost her appeal to the groups whose support she would need in a general election. General election polls show that Sanders has the best chance of winning in November, 2016 against all Republican candidates. Though there was an unprecedented turnout, it was Sanders who voters turned out to support. Polls show that 79 to 80% of Sanders supporters would not support Hillary if she were nominated. Those same polls show support for Clinton is luke-warm and that virtually all her supporters would back Sanders if he were nominated. At 8 P.M. when the polls were closing, Sanders's supporters were still standing in line. He proved he could turn out voters in numbers never before seen in New Hampshire's history. A heavy turnout, such as Sanders received, is critical to a Democratic victory in November. Low turnouts favor the Republicans.

In a desperate attempt to salvage the election, Clinton turned negative and was repeatedly caught in falsehoods. Sanders was already popular with the majority of women but Bernie became even more popular with women after Clinton's spokespersons insulted women supporting Sanders with claims they were only backing Sanders in order to chase boys and threats that there was a "special place in hell" for them. Adding to the insult against women, her husband (previously accused of sexual abuse by multiple women) accused her opponents (a larger percentage of which were women) of making sexist attacks against his wife. The Clintons equated past support from the Democratic Senate Campaign Committee and the Democratic Congressional Campaign Committee to Wall Street Donations. This does not bode well for the DNC if it seeks donations for these committees as Wall Street is very unpopular. Again and again, Hillary Clinton was caught in falsehoods, attacking Sanders over a derivative bill her husband forced through the Senate in a Midnight session wherein Bill Clinton had told the Senators it must pass. She also attacked Sanders at one point over a non-existent vote on Libya. Whenever Sanders responded with facts, Clinton accused him of smearing her. The final day, Clinton papered the state with attacks that most called false and misleading.

Clinton started out with a major advantage. Sanders came from single digits in early polls to a landslide victory in a state Clinton had previously won. In national polls, Sanders has risen to a statistical tie with Clinton. Rumors from inside the Clinton campaign indicate she is pointing fingers at her campaign staff and there could be a shake-up in the works there.

For Sanders, who already has set numerous fundraising records, the small donations from everyday people keep pouring in.

An enthusiastic crowd cheered as Sanders thanked New Hampshire and addressed all segments of those watching, letting them know that their issues were his issues. Below is a video uploaded by New Universe to Youtube.
---