Stein Wins the First Debate on Social Media as Trump Trounces Clinton on Stage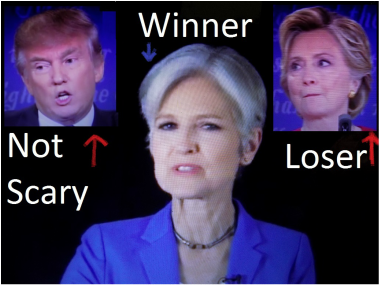 Hempstead, New York. September 26, 2016. After being escorted off the Hofstra University campus by police, Jill Stein broadcast her responses to debate questions on social media. Her words were seen by millions of online viewers who declared Jill Stein to be the winner of the First Presidential Debate for the General Election of 2016.

Virtually all media polls only inquired into whether Donald Trump or Hillary Clinton won the debate, ignoring the fact that there was a third candidate debating before an audience of millions. In all but the CNN poll, Donald Trump was classified as the winner on the debate stage. Even the CNBC poll showed Trump handily defeating Clinton. NBC, like CNN, was shown by the DNC leaks to be little more than a front for the DNC.

Jill Stein's debate audience provided frequent, loud applause. At Hofstra University, the audience was admonished to keep quiet. The quiet was broken with a loud applause when Donald Trump said he would release his latest tax return when Hillary Clinton released her 33,000 deleted emails.

Trump's burden was to look non-scary, Presidential, reasonable and rational. In this, he was successful. Clinton's campaign is based on making Trump appear so scary that voters who hate Clinton will fear to vote their conscience and feel forced to vote for her.

Clinton's burden was to convince the American public she could be trusted and that she was fit to be President. She failed. Clinton repeatedly brought up refuted/disputed rumors and misquotes against Trump, even attacking him for the "Birther" movement which her 2008 campaign started. There were lawsuits filed by one of Clinton's 2008 campaign people, Phil Berg, aimed at blocking Barack Obama from becoming President based on the "Birther" movement that she and her supporters now attribute to Trump. On stage, Trump took credit for getting Obama to produce his birth certificate. He has previously acknowledged that the birth certificate convinced him of Obama's citizenship and so the whole issue seemed to viewers to be little more than a distraction from the real issues. Assisting Clinton with some of the disputed accusations was a clearly biased moderator Lester Holt of NBC, a Network which, according to the DNC email leak, appeared to take its marching orders from Hillary's people at the DNC.

To viewers, Clinton appeared disingenuous, accusatory, petty, inaccurate, unaccountable and a copycat, having gotten many of her generalized debate responses from positions of Bernie Sanders that she had previously called unrealistic. Though Sanders came across convincingly in arguing for those positions, she appeared to be mouthing platitudes as opposed to actually supporting or even understanding the generalizations she was spouting. Clinton's use of accusations, misquotes and cheap shots made her appear more like a child than like a Presidential candidate.

Writers on the Justice Gazette News Team strongly disagree with many of Trump's positions, but he diplomatically presented them and did come across as Presidential compared to Clinton.

Trump and Stein were the candidates with plans to restore jobs. Trump took a stand against Clinton's free trade policies that have cost America millions of jobs. He spoke of reforming the free trade agreements to bring the jobs back. Jill Stein also opposes the TPP and free trade agreements like NAFTA. Only Jill Stein's plan will protect America's youth from overwhelming college debt and make health care more affordable. Trump's plan to even the jobs' playing filed by taxing imports the way foreign goverments tax American exports is among the policies that many American economists believe is needed to restore American jobs. Like Trump, Stein plans to create jobs that will restore the infrastructure. Clinton made no mention of this.

Trump's income tax plan favors the rich but so have Clinton's economic positions over the last 24 years. Clinton's history and Trump's tax plan leave the middle and lower classes paying for corporate follies. Stein who feels that the middle class is paying more than its share of the burden called both Clinton and Trump out on their economic plans.

Stein presented a balanced, calm and fair response to the statements of the other two candidates. Both Clinton and Trump are from the top 1%. While Clinton engaged in personal attacks and questioned Trump's business practices and his financial status, no mention was made (except by Jill Stein) of Clinton's misconduct with respect to the Haitian people and America's poor. Welfare to Work destroyed the lives of children and single mothers across America, placing them into devastating poverty. Clinton opposed raising the minimum wage in Haiti as it might have cut into her profits. Clinton scammed donors who wanted to help Haitians after the earthquake with the Clinton Foundation pocketing the vast majority of the money.

Clinton's attacks included one on Russian President Vladamir Putin based on unfounded and refuted accusations that he was supposedly Wikileaks source of the DNC leaks. Julian Assange not only has refuted this claim as false but has hinted that gunned-down DNC staffer Seth Rich was the real source of the leaks. This repeated unfounded accusation appears to be a play by Clinton to push America towards war with Russia.

Clinton tried and failed to paint Trump as unpatriotic. Trump's response was to mention his support from military leaders. In the Democratic primaries, it was Bernie Sanders and not Hillary Clinton who had the support of the military.

Trump and Stein both oppose first strikes. Trump tried to educate the debate audience that a nuclear war would mean everything would all be over for Americans. Clinton has spoken of using nukes in her foreign policy. Clinton's reaction to Russia left several viewers feeling uneasy about what she would do in a crisis. Jill Stein would stop the U.S. sale of weapons to terrorists and terrorist nations and focus on creating peace.

The only candidate who came across as pro-environment was Jill Stein, who has a Green New Deal that will create 25 million jobs. Clinton helped draft the TPP, which terminates all environmental laws. Clinton supports fracking, which has destroyed drinking water across America. She has promoted genetically modified foods over healthy organic foods. Clinton has taken large donations from oil companies. Trump's energy policy is not "green" but his opposition to the TPP and the fact that the oil companies are promoting and investing in his opponent Hillary Clinton makes Trump stronger on the environment than Clinton. Trump noted that he has been misquoted regarding global warming.

The best response regarding lowering the crime problem in America was provide by Jill Stein who would demilitarize the police. Donald Trump explained that his planned increase in the number of police officers was designed to assist people in minority neighborhoods who wanted to feel safer. If not for the excessive number of killings of unarmed Black and Hispanic men carried out by rogue officers who have never been brought to justice, his approach might have resonated better with the minority viewers. Still, his intentions came across as more genuine than Clinton's who seemed to be mouthing words she did not believe.

While Trump said he would support Clinton if she won, Clinton never made the same promise.
​
The best line from the debate stage, though not original, was provided by Donald Trump: "We cannot be the policeman of the world."














---