Snowden: A Must-See Movie about an American Patriot
​Review by Natalie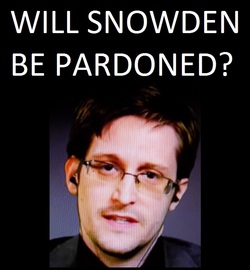 April 16, 2016. Snowden, Director Oliver Stone's most exciting, romantic, suspenseful, authentic and powerful movie to date, deserves more than just multiple Oscars. It deserves a pardon for the man who is considered by most Americans to be the greatest hero of the 21st Century.

Ever since Glenn Greenwald of the Guardian broke the truth about America's spying on Americans program, Edward Snowden's courage has given hope to American citizens who had become disillusioned with their government and had come to believe that genuine heroism was mostly a thing of the past and of fantasies. Almost immediately, Americans began clamoring for Snowden to be pardoned. Among those calling for the pardoning of Edward Snowden are Bernie Sanders, Jill Stein, President Jimmy Carter and many other courageous leaders and well-known celebrities. The United Nations has called for the protection of whistleblowers "like Snowden." A Snowden statue was unveiled in Germany, along with statues for Julian Assange and Chelsea Manning. Several human rights organizations (including Amnesty International, Human Rights Watch and the ACLU) are also on board with demanding Snowden be pardoned. Additionally, petitions have been circulated and polls show that over 94% of Americans want Snowden pardoned. To most Americans, Edward Snowden is a hero who gave up everything to make America a better country. The question for Americans is whether the current President who has persecuted/prosecuted more whistleblowers than any other President or world leader in history will finish his Presidency by pardoning a hero like Snowden who risked his freedom and life to let Americans know what they needed to know and had a Constitutional right to know.

Snowden is a very balanced an accurate movie that follows Snowden's life,from his military days through his exile in Russia. The movie gives a solid picture of how intrusive and oppressive the government has become while showing that the rise of heroes like Edward Snowden is what will get America through its darkest hours. Though riveting in its flow, it is very fact-based and authentic, even making reference to the forcing down of Evo Morales's plane, an international crime committed by the U.S. Government in the pursuit of Snowden. In researching the movie, Oliver Stone went to Russia and met with Snowden, interviewed Snowden's girlfriend Lindsay Mills and did extensive research to make sure his details were on point.

Joseph Gordon-Levitt (Tommy, Third Rock from the Sun) provided such a convincing and close portrayal of Snowden that Stone was able to switch to video of the real Edward Snowden without missing a beat. Zachary Quinto, stepped out of his Spock role to convincingly portray award-winning journalist Glenn Greenwald. Shailene Woodley played Lindsay Mills, Snowden's girlfriend. The strong cast also included Nicolas Cage as a CIA agent/teacher, who was wise to the bureaucratic misdeeds of the agency.

The movie accurately portrays how Edward Snowden decision to go public about the spying program was the result of his strong conscience and his desire to protect the American people from unlawful acts the U.S. Government was committing against them. Like other Americans, Snowden (a conservative) had hopes that Obama would depart from Bush's agenda. Instead, Obama has expanded on Bush's policies of spying on the American people.

Overall, Snowden is the best movie so far in 2016. It is a must-see for anyone who cares about America and the future of our society.
---