Hillary Makes History by Losing Five Electors as Sanders, Paul and "Faith Spotted Eagle" Come Out Ahead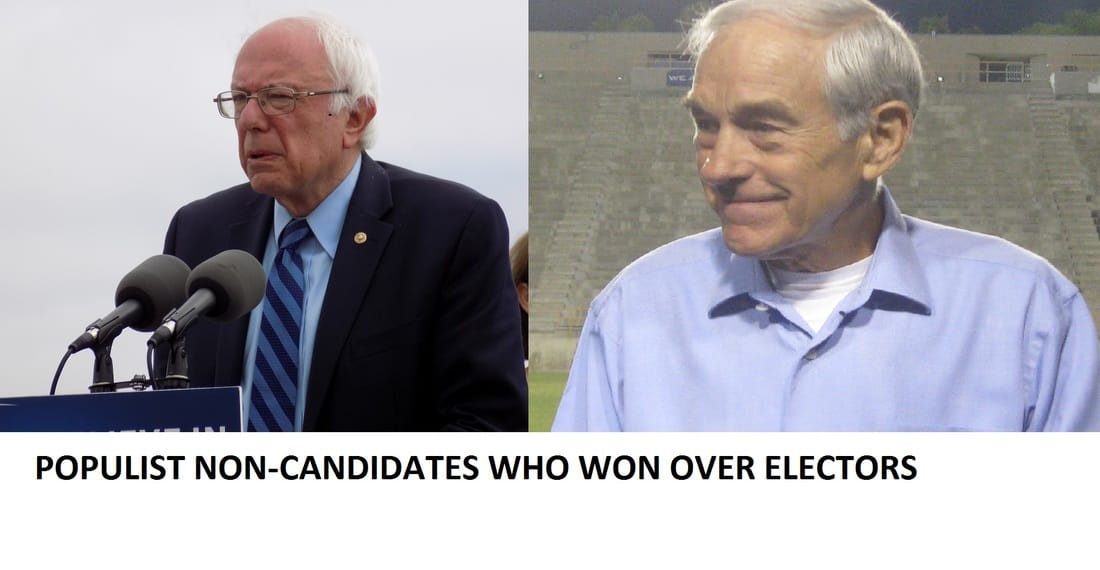 December 19, 2016 USA. For the first time in history, seven electors defected during the Electoral College vote, five from Hillary Clinton and two from Donald Trump. Even Hillary's electors couldn't stomach voting for her and defected against her by a margin of over double the defections from Donald Trump, making Hillary the most unpopular candidate in history, seconded by Donald Trump. Historically only one elector had defected.

The result of the college (304 for Trump to 227 for Clinton) was an electoral landslide for the man Jimmy Dore calls Donny Tiny Hands.

While Clinton's and Trump's unpopularity played out at the Electoral College, there were some real winners. Going into the vote, nobody else had any electors. At the end of the electoral vote, Bernie Sanders, Ron Paul, Faith Spotted Eagle, Colin Powell and John Kasich all had picked up electoral votes---even though none of these individuals ran in the general election.

Bernie Sanders was the popular winner of the Democratic Primaries, only losing the nomination by what has been called the biggest election fraud in American history. Millions of Democratic voters were disenfranchised by the Clinton campaign. While Clinton was busy disenfranchising voters, she failed to notice that Cross Check had joined her in making sure even more voters could not vote. The result was a joke election between two candidates whose only platform was that they weren't the other person.

Ron Paul ran in 2008 and 2012 for the Republican nomination for President. Unlike other Republican candidates, he voted against the wars in Iraq and Libya, voted against the PATRIOT Act, voted against the Wall Street Bailouts and voted against the National Defense Authorization Act. (indefinite detention of American citizens). Though Paul was a Republican, he was more popular with Democrats than Hillary Clinton. Dennis Kucinich, Maxine Waters and Barbara Lee had very similar voting records to that of Ron Paul. Many Democrats would have liked to have seen a Kucinich-Paul or a Cynthia McKinney-Ron Paul ticket. Paul and Kucinich both indicated that they would consider each other for a running mate.

Who won the popular vote? Nobody knows. Almost half of Americans did not vote for any of the major or minor candidates. However, votes for un-registered write-ins are not counted at all. Theoretically Paul or Sanders could have won the plurality of votes in the general election and nobody would even known it. Perhaps, the switching electors knew lots of people who wrote in Sanders and Paul and were doing what their constituents wanted, despite their votes not being counted.

One thing is for sure. Nobody from the U.S. intelligence servcies has gone on record with evidence against the Russians. The attacks on Putin are all based on rumor and inuendo. Juilan Assange has made it clear that Russia was not Wikileaks source of information. The body of Seth Rich serves as evidence of what happens when loyal Americans reveal information certain candidates do not want revealed.

As for "fake news," the primary sources of that are CNN, ABC, CBS and MSNBC. Nobody has denied the emails released by Wikileaks. News gatherers across the country are demanding an end to the demoonization of truth-telling journalists. Most Americans feel it's time the fake broadcasters who took marching orders from the DNC step down and make way for journlists like Greg Palast, Glenn Greenwald and Julian Assange, real journalists who care about the integrity of the news.