Hillary's White Privilege and Her Oppression of Minorities and the Poor (video)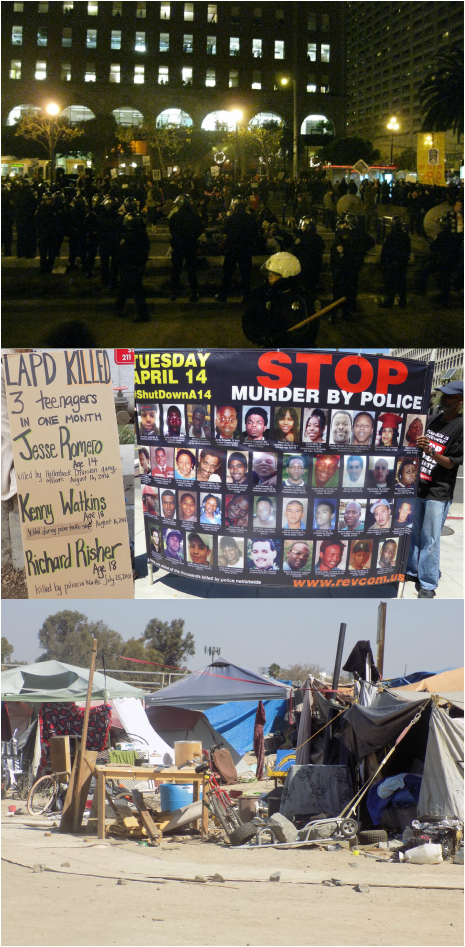 September 7, 2016. In an election season where the all white top 1% team of Clinton-Kaine is running against the rainbow Main Street team of Stein-Baraka, it is obvious to most of the public that the white privilege team is the Clinton-Kaine team. Hillary Clinton (1) opposed the Civil Rights Act of 1964, (2) promoted mass incarceration of Blacks and continues to promote mass incarceration for victimless drug possession crimes for which Blacks are disproportionately incarcerated, (4) supports the death penalty which mostly targets innocent Blacks and minorities of low economic status (5) has been the number one recipient of private prison money (5) called Black teens "super-predators," thereby justifying the kind of violence perpetrated by George Zimmerman on Trayvon Martin, (6) promoted the militarization of the police which has resulted in almost daily executions of Blacks and other minorities, (7) promoted "Welfare to Work," which pushed millions of Black youth into poverty and prevented them from affording a college education, (8) opposes Single-Payer health care with the result being that single disabled individuals have to pay premiums of up to $1133/monthly or have no healthcare i insurance, thereby denying health care to the poor, (9) promoted a war against Blacks and Browns in other countries that has disproportionately killed America'of color and low economic status, (10) voted for a wall on the border of Mexico and for placing Latinos into slave labor concentration camps, (11) deported helpless Latino children without regard for the fact that these deportations were likely to cause their deaths, (12) supported Wall Street over Main Street, resulting in mass homelessness in America, to name just a dozen of the issues that make Hillary Clinton the white-privilege candidate of the top 1%.

While Hillary Clinton made fracking/TPP promoter Tim Kaine her Vice Presidential Candidate, Jill Stein picked Ajamu Baracka, an African-American, who is considered one of the top internationally recognized human rights leaders in the world. Both Jill Stein and Ajamu Baraka have fought against Hillary Clinton's police state, against her death penalty, against her college for the rich and against Hillary's subversion of Main Street for Wall Street.

While Hillary Clinton has taken donations from the oil companies who expect to benefit from the pipeline being forced through the Standing Rock Sioux Sacred Tribal Property, Jill Stein has gone to North Dakota and risked arrest supporting the Native Americans in their fight against the racist pipeline. Hillary Clinton's oil establishment has pushed to get an arrest warrant issued against Jill Stein because the latter protested the bulldozing of sacred burial grounds belonging, not to the oil companies, but to Native Americans who invited Jill there. In supporting the bulldozing of sacred Indian burial grounds on behalf of the oil companies, the U.S. Government has violated it's treaty with the original owners of the United States. If the U.S. Government violates its treaties so easily on behalf of Hillary's backers in the oil industry, can any government, any American or anyone else in the world ever trust the word of the U.S. Government again? Who represents rich white privileges: Clinton, who is backing and and funded by the oil companies run by rich white executives or Jill Stein who is with the Native Americans. and those oppressed by Hillary's militarized police?
---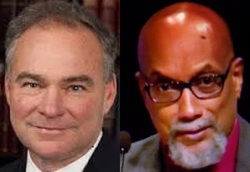 On the left is Hillary Clinton's choice for Vice President, rich, white Tim Kaine. On the right is Jill Stein's Vice Presidential choice,, renowned international human rights leader Ajamu Baraka. Which of these two represents rich, white privilege? Does Cornel West, who is backing Jill Stein represent rich white privilege or do Hillary's backers who run Goldman Sachs and the World Bank?

While organizations and groups that only pretended to be progressive to gain ratings, public support and profits have switched to supporting Wall Street's Hillary Clinton, other voices are ringing out in support of the masses, the victims of Hillary's uncaring rich man's society. The new voices for freedom and human rights include comedian Jimmy Dore, comedian Lee Camp, Sane Progressive Debbie Lusignan, Civil Rights Activist Dr. Cornell West, Journalist Chris Hedges, Majority Report Host Sam Seder, Activist Tim Black and Singer YahNe Ndgo. Also leading the battle to stop the police killings of innocent civilians is Damien Ramirez (whose best friend unarmed Michael Nida was machine-gunned down by Downey Police) and a new 13 year old activist from Oakland named Tiburcio Garcia, who blew away crowds with his insights at a rally against police violence on September 4, 2016.

Following are videos recorded by The Justice Gazette reporters of Damien Rameriz, Tiburcio Garcia, Yahne Ndgo, and Jimmy Dore, and a video of Lee Camp that was uploaded to YouTube by Redacted Tonight,
---