The Conscience of America Runs for Governor of Ohio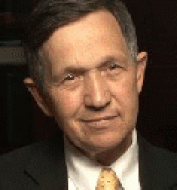 January 17, 2018. Cleveland, Ohio. Dennis Kucinich, leader of the opposition to the War in Iraq, leader of the opposition to the PATRIOT Act, leader of the opposition to the Wall Street bail-outs, leader of the opposition to the NDAA and the war on Libya, author of single payer healthcare legislation, author of bill to abolish the death penalty, author of the legislation proposing a Cabinet level Department of Peace, also known as "The Conscience of America," has announced his candidacy for Governor of Ohio. People in other states across America are jealous of those who now have the opportunity to make him their Governor.

Across Ohio, residents are thrilled at the chance to have Dennis back in politics. After all, he saved the people of Cleveland, Ohio, hundreds of millions of dollars in electrical bills by standing up to a corporate takeover of the city-owned Muni-Light. In doing so, he faced death threats and threats against his career. Kucinich cannot be threatened as he always puts the interests of the people first, before his own. He has never taken corporate contributions and he owes Wall Street absolutely nothing. Through a people-powered candidacy, he was the Boy Mayor of Cleveland and later an eight-term Congressman.

In his announcement, Dennis took a stand for people's rights, for taxpayers' rights, for the environment, for safe food, for public financing of elections, for net neutrality,, for tuition-free college, for restoration of voters' rights, for consumers' rights and protection, for workers' rights, for farmers' rights and for the rights of the 99%. Dennis is the one, perhaps the only one person who as Governor who can restore the economy of Ohio. Without him, Ohio's economy is falling, with homelessness everywhere. Dennis has always led the way to economic stability and economic rights for all people. He is the man Wall Street most fears.

As the one leader who has always refused to take a dive, refused to support legislation harmful to the people, and refused to support oil wars, Dennis's primary strength has always been the love and respect of his constituents. Across the aisle, Ron Paul spoke of Dennis's integrity and how he would consider bucking his own party to have him for a running mate. In Dennis's last election, he carried Cleveland's vote by more than a four to one (4 to 1) margin.

---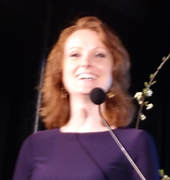 At his side, during the announcement, was his beautiful wife Elizabeth who is a leader in her own right. Elizabeth, who once worked with Mother Teresa in helping people in need, is herself a strong leader when it comes to economics and the environment.

No write-up could convey Kucinich's courage and personal power as much as watching him speak. Below is a video of his announcement, uploaded to Youtube by WKYC, Channel 3, that demonstrates that Ohio finally has a candidate for Governor who can be trusted to be there for the people and to create real "Power to the People."

---