Poll Shows the Unthinkable:
Hillary Will Cost Democrats California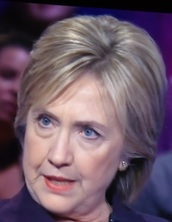 February 8, 2016: Polling done by the Justice Gazette of a sample of 720 registered California voters over the last week has revealed that 70% of Bernie Sanders supporters will not back Hilary Clinton in the general election. Part of the criteria for those polled included their past participation in the 2014 election where there was a record low turnout. Only 42% of eligible voters voted in the 2014 general election in California. Jerry Brown won the Governor's election by 20% over his Republican rival. Some Democratic races, such as the California Insurance Commissioner's race were much closer. The Democrats did lose some seats in the California legislature due to the low turnout in that election.

In the poll at hand, Sanders had the support of slightly more than 49% of the eligible voters while Clinton's support rounded up to 42%. However, due to changes in voter attitudes as elections approach and giving Clinton's campaign the benefit of the doubt, we will analyze this as if the two were evenly matched. If roughly 35% of Democratic or even Democratic-leaning voters don't vote, the loss is much more than the difference by which Brown won 2014. If he had had those numbers, he would have lost. Hillary Clinton more than likely cannot win in California with these numbers.

Slightly more than 95% of Clinton voters stated they would vote for Sanders if he were the nominee. This would be enough support to provide Sanders with the victory in California. When asked if their votes would change if Sanders endorsed Clinton, there was no significant change in the refusal to vote for Clinton. According to the polling, the dissatisfaction with Clinton among Democratic voters goes far beyond support for Sanders.

Since 1976, no Democrat has won a general election without winning California. What this means is that, if the Democratic Party nominates Clinton, the Republican nominee will more than likely be elected President. In 2014, California bucked the national trend to elect an all Democratic executive branch. If the Democrats lose this strong Democratic state, the Party could be in significantly worse shape elsewhere.

California's election is still four months away. So this is very early. But if trends continue and Clinton is the nominee, the Democrats will be looking at a Republican victory in 2016.


---