Bakersfield Children Placed at Risk by Court Rulings

by Henry Samson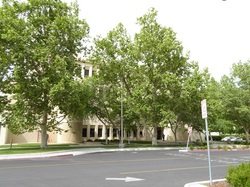 October 13, 2015. Bakersfield, CA. Superior Court Commissioner James Compton ruled that a convicted, registered pedophile Nicholas Elizondo will have his young daughter on Halloween. This ruling allows Elizondo to go door to door, "perhaps to your door," on Halloween and appears to put children in Bakersfield at risk. Elizondo is allowed to go to Bakersfield Eissler Elementary School on a daily basis already and walk amongst the various 5, 6, 7, and 8 year old children, "endangering them," according to a concern expressed by some parents. According to reports, the Eissler Elementary school principal has no objections to pedophiles being on campus with the children.

The October 13, 2015 court rulings allow Elizondo to force cosmetic surgery on Lisa Knight's little girl. Under the ruling, Lisa Knight is not allowed to object to the changes made to her daughter's face. Reportedly, the child also does not want the cosmetic surgery and is happy with her face as it is. Medical experts have cautioned against unnecessary cosmetic surgery prior to the age of 18. The girl is considered very pretty already by many of those who have seen her. Many wonder why this registered, convicted pedophile feels he needs to have cosmetic surgery done on Lisa's little girl.

After reportedly having orally and vaginally molested a young 5/6 year old girl, resulting in Elizondo's conviction and required registration, he was caught undressed in bed with Lisa's daughter in January. Yet Commissioner Compton continues to fail to take any steps to protect little Sarah from sexual abuse. Elizondo was witnessed assaulting and battering the mother and reportedly injuring the little girl at a hospital in Madera in April, but this also resulted in no consequences or changes in his custody of the little girl.

Concerned parents have been asking why Commissioner Compton continues to ignore Family Law Code 3030 by allowing a convicted, registered pedophile to have full custody of a little girl, particularly after evidence has surfaced that that girl may have been sexually abused by him. Parents of other children at Eissler Elementary School and of children throughout Bakersfield have been placed in danger by Compton's rulings. Some have called for an independent investigation by the state legislature into judicial misconduct in abuse cases, such as this.


---