California Proposition 62 Saves Innocent Lives While 66 Creates a Mass Genocide of California's poor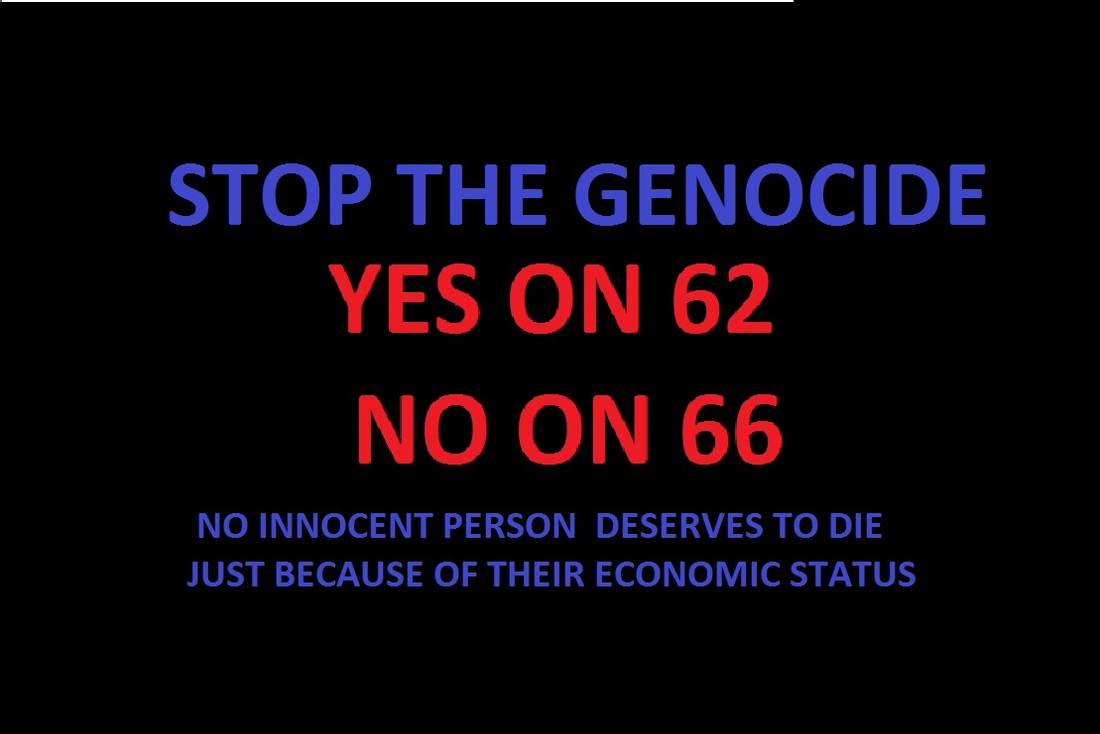 November 1, 2016. California. California has two choice that will either end the systematic killing of innocent minorities or create a mass genocide of low income Blacks, Latinos and Native Americans.

Unless 62 passes and receives more votes than 66, the next person to be killed will be an innocent Black man---or so 5 justices on the 9th Circuit as well as jurors who changed their minds after convicting Kevin Cooper believe.

To understand, one must realize that San Bernardino is California's hotbed for the Ku Klux Klan. The cover-up started when a Black man stepped out of a low security prison and decided to high-tail it to Mexico. Meanwhile, three white men killed a family in Chino Hills, stole their car, went to a bar covered in blood and bragged about the killings. The lone survivor of the attack (then a little boy) said the killers was three white or Hispanic men. When he later saw a picture of Kevin Cooper, he said that he was not one of the killers. Neighbors who saw the men drive the stolen car from the scene stated that it was three white men driving the car. The women in the bar stated that they spoke to three white men who admitted to the murders. After the murders, Diane Roper found bloody overalls in the closet of her boyfriend Lee Furrow (a convicted contract killer). She turned the overalls over to Sheriff's deputies, who discarded the evidence in a dumpster without testing them. Deputies also trashed a T-shirt matching one Roper had given to Farrow that was found near the murder scene, containing the blood of victims. Roper noted that Furrow's ax was missing after the murders and one matching the description of Furrow's ax was found near the murder scene with the blood of the victims. Through police misconduct almost all the evidence has been discarded, contaminated or altered, making it impossible for Cooper to get a new trial. None of the exonerating information was given to the defense attorney or to the jurors who now believe they were misled by the prosecution. That is why jurors from Cooper's case now want Cooper to have the new trial he has not been allowed to have. But instead he will be executed if 62 fails and 66 passes.

During the trial, the KKK conducted mock executions of black gorilla dolls outside the courthouse. While the perpetrators were three white men, Kevin Cooper is very noticeably Black.

According to a Los Angeles Times reporter, former Sheriff's Deputy Albert Anthony Ruiz told her that the killings were a drug deal gone bad and that the people sent to exact revenge "hit the wrong family on that hill."

In addition to an innocent Kevin Cooper, many more innocent Blacks, Latinos, Native Americans and poor Californians will die if 66 beats 62 as 66 eliminates vital steps allowing proof of innocence. The one with the most votes becomes the law. . People who are rich are simply not executed and never will be. Executions are for the poor. This is because indigent defendants are given sub-standard defenses by deputy public defenders who often make it clear that they don't care at all about their clients. Often these deputy PD's are in line to move into prosecution jobs and do not want to rock the boat against their prospective employer on the other side.

Contrast this with the fact that Seth Rich's murderer will likely never be found and the fact that high level rich criminals are almost never prosecuted. Whoever gets into the Presidency will take office under a cloud of criminality, absent a third party upset victory. Under a President who is above criminal prosecution, America's leaders have no qualms against selling arms to terrorists and mass murderers, against bombing churches, schools and hospitals, or against killing children on a regular basis. While one major party candidate has said bad things, another has demonstrated the ability to easily kill and has even spoken of starting World War III. Killing everyone on Earth is apparently OK. Yet the executions of a token group of poor, mostly innocent, people on death row are used to create a false sense of morality in America.

If 62 becomes law approximately 741 Californians, almost all poor, will be placed into Life Without Possibility. Though they maybe be serving time for crimes they have not committed, it also gives organizations (like The Innocence Project, which has exonerated over 300 people) an opportunity to protect the lives of innocents arrested and prosecuted for crimes other people did.

Californians have a decision. Should the deaths of the innocent be sped up to eliminate their right to prove their innocence (66) or should California join every other Western nation and abolish capital punishment (62)?





---